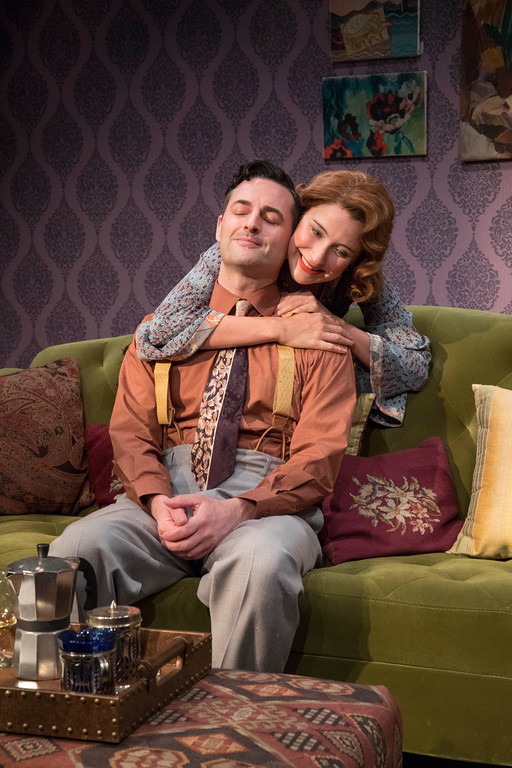 The concept of open marriage invites a variety of images. At times, people tend to think of it as a modern day happening. However, it is an interesting theme that has been explored for mnay decades in theater. The current offering from the Mint Theater Company is about that very subject. Yours Unfaithfully is a slight departure from the plays usually performed by the Mint in that it is a play that was published in 1933 but never produced. Thus, Mint is providing a belated World Premiere. Yours Unfaithfully was written by Miles Malleson who prescribed to the open marriage concept in his own personal life. One can listen to the dialog in the play and wonder how much of it were the thoughts he had and how much was otherwise written. This production is directed by Jonathan Bank and it stars 2015 Tony and Drama Desk Award nominee, Max von Essen, Todd Cerveris, Mikaela Izquierdo, Elisabeth Gray, and Stephen Schnetzer. It will play through February 18, 2017 at the Beckett Theatre.
Yours Unfaithfully focuses on a couple who have both consented to live in an open marriage arrangement. Stephen, a writer, and Ann, the director of a school, have both had extramarital affairs during their eight-year marriage although when we meet them at the beginning of the play, we learn that it has been quite awhile since either one had another lover. Their discussions about the subject are free flowing and without emotional involvement; in fact, one gets the impression that they consider it a necessary ingredient to having a happy, long-time marriage. in Act I, Ann suggests to Stephen that perhaps the reason for his current writer's block is because he is not stimulated enough and that spending time with their friend, Dianna, whose own husband had recently passed away could bring a new energy into his life.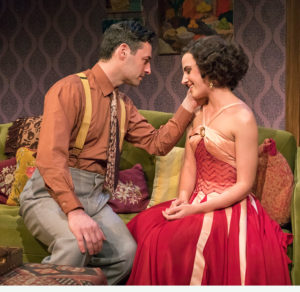 The opportunity arises for Stephen to see if Dianna would be interested in pursuing a relationship. There is a good sense of intimacy created in this scene where Stephen begins his seduction. She is definitely interested and so they begin an affair that has the wife's blessing. In fact, Ann is somewhat relieved at first that Stephen has another interest in his life thus freeing her to do more of the work she wants to do. It all seems pretty seamless until Stephen's father, a clergyman comes for a visit. His discussion and presence with his son provide that more traditional look at marriage as he says "There is something in marriage beyond a deep spiritual union by a complete loyalty to each other." It has some impact on Stephen since he was raised with those beliefs, but not enough to cause him to end the affair.
As the play continues, Stephen becomes more enthralled with his life and it is due to the time he spends with his lover. However, as time goes on, Ann realizes she is jealous of their relationship. She speaks with Allan, her own former lover about her feelings. She is depressed with jealousy as Stephen prepares for a little vacation with Dianna in Paris. And another strange thing occurs during that trip: he realizes he has fallen back in love with his wife. It all sounds good, just like everyone will live happily ever after. But happily for the audience, there are still twists and turns and a rather surprising turn of events orchestrated by Ann at the end.
Not only does this play use well-developed conversational dialog to present its points, it also has a cast completely immersed into their roles who are positively outstanding to watch. Mr. von Essen is the picture of refinement and masculinity all roled into one fine presentation. It is no wonder that both female characters in the play would want to be with Stephen. Elisabeth Gray playing Ann has a style and grace onstage that makes it difficult for an audience member to take their eyes off of her. Todd Cerveris plays Allan with a quiet presence yet one that provides a definite comfort to his friends. Mikaela Izquierdo has a smaller part but her character is interesting to watch as she grows and flowers from the love she has found. Finally, the principled clergyman played by Stephen Schnetzer gives the play the more traditional touch of morality needed to allow the other actions to contrast and allow us to decide where we stand on the idea of open marriage. Unfaithfully Yours is well worth going to see.

About the Show:
Running Time: 1 hour 55 minutes with 2 intermissions (one is 10 minutes the second is 15 minutes)
Location: The Beckett Theatre at Theater Row (410 West 42nd Street between 9th and Dyer Avenues)

Performances:Tuesdays – Saturdays at 7:30 p.m. and afternoon performances on Wednesday, Saturday and Sunday at 2:30 p.m.
Contact for Info and Tickets: Tickets can be purchased online at Telecharge.com, by phone at 212/239-6200 or in person at the Theatre Row Box Office. For more information, visit minttheater.org.
Suggested Audience: Adults due to subject matter