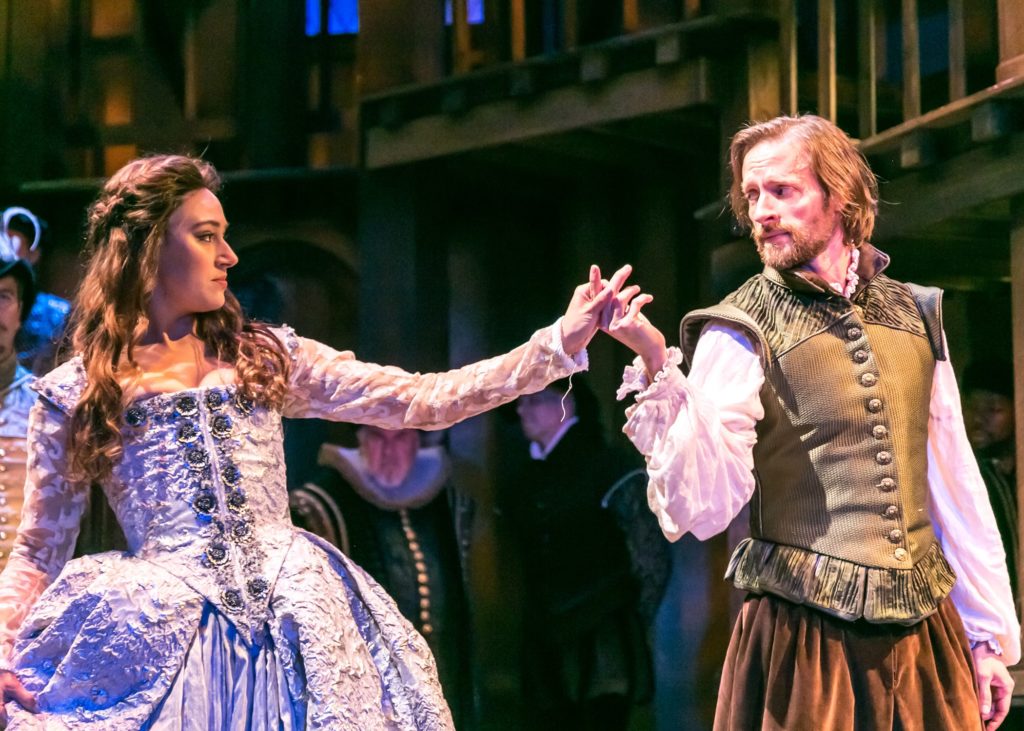 A new play is gracing the stage at The Shakespeare Theatre of New Jersey. Based on the Oscar winning movie of the same name, Shakespeare in Love plays in Madison through November 12, 2017. The show is based on a screenplay from the movie of the same name by Marc Norman and Tom Stoppard. The new production is adapted for the stage by Lee Hall and this marks its Metropolitan debut. No doubt the right decision was made for this fabulous new production to open here. Under the direction of the Shakespeare Theatre's Artistic Director Bonnie J. Monte and with musical direction by Kris Kukul, the show is absolutely enchanting.
There are many things to like about this show that it is hard to know where to start. Perhaps a line in the press notes said it best: "This exuberant theatrical 'love letter' is filled with music and a huge cast of colorful characters (and one feisty dog)." One could stop right at the words "love letter" and have a feel for the show. The mood created by the production allows audience members to feel as though they are a part of the time when Shakespeare was just coming into his own. For Shakespeare fans, it is a dream come true to be able to see what he might have been like as a person. Seeing him fall in love is a highlight of this show. Seeing what he does from that love is both enchanting and sure to provide a lot of food for thought.
The opening scene shows Shakespeare sitting at his desk trying to write a sonnet. He is frustrated as he crumbles up page after page of attempts. Writer's block is causing him distress. He receives suggestions as he talks with other people and he incorporates their suggestions into his own work. These inferences add fuel to the age old controversy as to whether Shakespeare actually wrote all he claimed. But these early scenes play out in light humor allowing the audience to get a feel for what the man might have gone through.
Will Shakespeare is in the early stages of his writing career so he is at the mercy of theater/company owners. The theater owners are always anxious to please their benefactors. The playwrights bow to their wishes especially to those of Queen Elizabeth who loves seeing dogs on stage. A funny scene occurs with a play performance that features an actual dog on the stage for which the Queen is delighted.
The play really starts to move well when Will meets Viola, disguised as a young man. She takes on the disguise to fulfill her desire to act onstage before she marries. He is smitten with "Thomas Kent" as she calls herself. The scenes where Will and Viola become involved romantically are very well done. They are so well performed by Jon Barker as Will and Whitney Maris Brown as Viola that one can understand the passion that pulls Shakespeare out of his writing block allowing him to produce Romeo and Juliet.
The conclusion is in keeping with honor and respect to social conventions of the time. One might view it as nod to the maturity the two lovers have achieved as a result of their relationship. It is a satisfying ending.
Shakespeare in Love is filled with good dialog, music, and well developed characters. The cast includes over twenty people and a dog named Dublin. This show is well worth seeing and one that all ages can enjoy.
Additional Information about Shakespeare in Love:
Running Time: 2 hours 30 minutes plus one 15-minute intermission
Location: F. M. Kirby Shakespeare Theatre,  36 Madison Ave, Madison, NJ (on the campus of Drew University)
Performances: Tuesdays – Sundays – Consult the website for more information
Contact for Info and Tickets: Call 973-408-5600 or visit www.ShakespeareNJ.org.
Suggested Audience: Appropriate for all ages
Additional Information:
Post-Show Symposium Performances: Saturday, November 4 at 2:00 p.m.