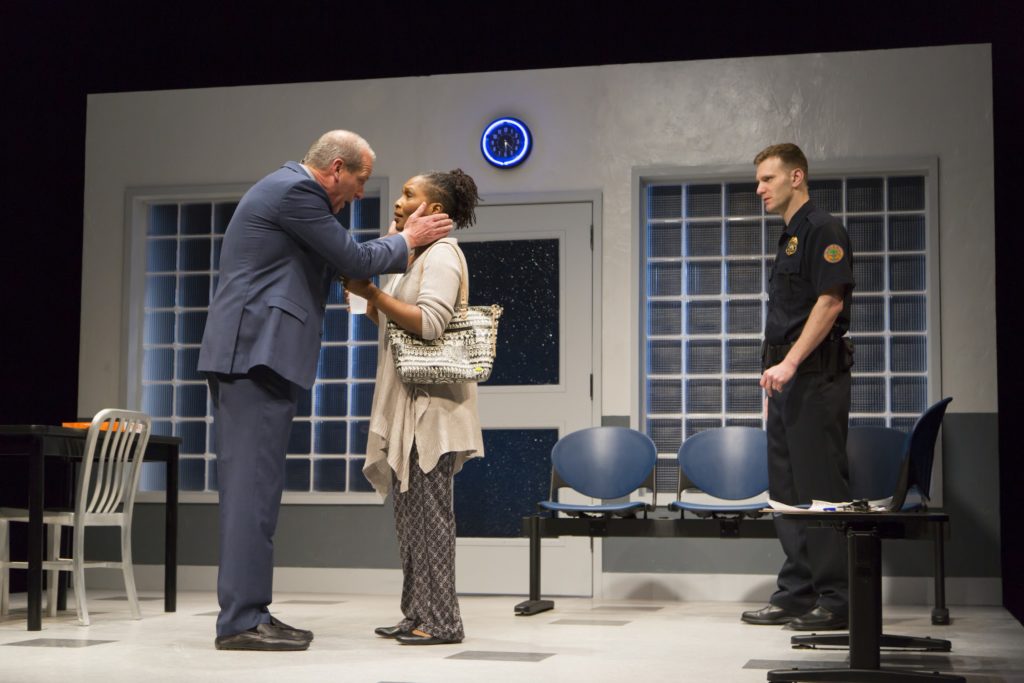 A hard-hitting, timely play is currently running at New Brunswick's George Street Playhouse. American Sons by Christopher Demos-Brown examines injustices plaguing racial relations. American Sons earned the 2016 Laurents/Hatcher Foundation Award for a new play by an emerging playwright. It had its world premiere at Barrington Stage last summer and is being presented in New Brunswick through February 26, 2017.
Directing American Sons is George Street's Artistic Director, David Saint, who is celebrating his 20th anniversary at the Playhouse. Mr. Saint said the following about this play:
"I knew the minute I read this play, I had to bring it to George Street. This is an extraordinary page-turner and an important, timely play."
Extraordinary it is for sure because the story it tells is all too true in today's world. After seeing the play, you just sit and wonder "how could this have happened?" But stop and do a reality check and you know that what takes place onstage has been occurring at numerous locations throughout the country.
This play centers on an estranged, biracial couple whose son gets stopped in a traffic incident. The first character to enter the stage is Kendra Ellis Connor, mother of Jamal. She is a well educated black woman who works as a professor at a local college. The tension she experiences is evident as the waiting game for information on her son continues through much of the play. We never get to see Jamal, but we get a good picture of him. He's described as a hard-working student who has earned his way into an upcoming appointment at West Point. When Scott Connor enters the play, we see that he is a white man who fell in love years before with Kendra and he is devoted to his son. Kendra and Scott have separated recently and this event has been difficult for their son to deal with. His "acting out" results in joining in with a few other young men who get pulled over for a traffic stop during the night.
As the couple waits for word of where their son is, they have encounters with Officer Paul Larkin and Lieutenant John Stokes. These encounters along the exchanges between Kendra and Scott bring the story to life. Some are very difficult to watch because the fate of a young man is unanswered. Playwright Demos-Brown has done a fine job on constructing critical interactions which bring out the injustice that ends up taking place. Be prepared to get involved with the Connors and ultimately, be prepared for a shock at the end.
The fine cast includes Suzzanne Douglas (Kendra Ellis Connor), Mark Junek (Officer Paul Larkin), John Bolger (Scott Connor), and Mark Kenneth Smaltz (Lieutenant John Stokes).
The set is designed by Jason Simms with costumes by David Murin. The creative team also includes lighting designer Tyler Micoleau and sound designer Christopher J. Bailey. The production stage manager is Thomas Clewell.  Casting is by McCorkle Casting, Ltd/
For tickets, contact the George Street Playhouse Box Office at 732-246-7717 or visit www.GSPonline.org. George Street Playhouse is located at 9 Livingston Avenue in New Brunswick, NJ.
This show runs about 90 minutes with no intermission.
This play is an amazing piece of work to see before it leaves the George Street Playhouse.
*theatervisit