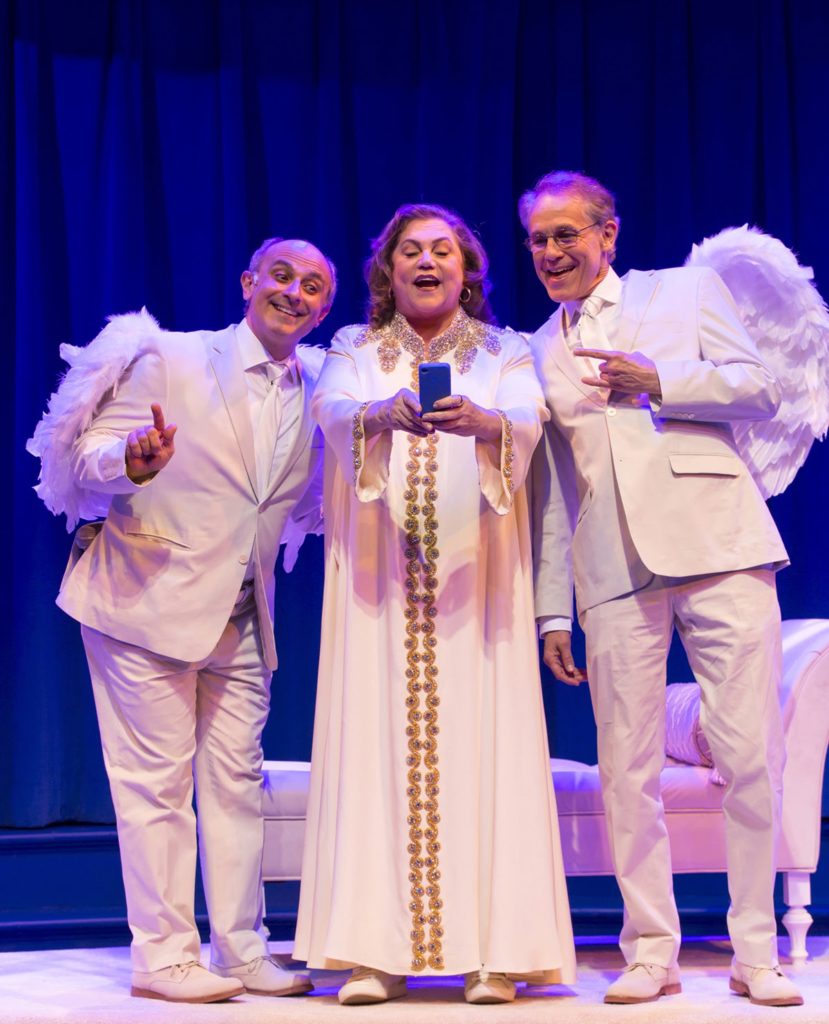 Now playing at New Brunswick's George Street Playhouse through Dec. 23, 2017 is An Act of God. This very funny play stars the legendary Kathleen Turner in the lead role as God. George Street's own David Saint provides direction for a cast which also includes two archangels: Steven DeRosa as Michael and Jim Walton as Gabriel. Written by David Javerbaum, this play was a major hit on Broadway during 2015 with Jim Parsons and 2016 with Sean Hayes. This version marks a departure from males playing the lead role with Ms. Turner playing the lead part.
An Act of God begins with setting up who's who is in the show. After a few words about creation, the audience hears that God has decided to come down to New Brunswick.  The twist is that God comes in human form. The audience also hears that tonight that human form is of a woman, the well-known actress, Kathleen Turner. The purpose of God's coming is to announce a revised set of the Ten Commandments.  In doing this revelation, God answers many of the deepest (and not so deep) questions that have plagued mankind since Creation. Regarding creation, "God" explains that  she wasn't doing any godding so she decided to create a universe.
Ms. Turner's comedic timing is impeccable she delivers the lines with absolute certainty in her trademark deep voice. But she also commands the stage when the concerns of mankind are presented. That ability to distinguish the moods of the moments in the show makes her a fascinating performer to watch.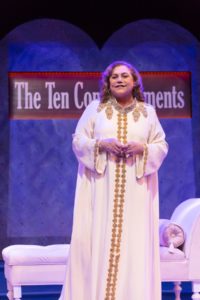 In addition to the fine acting, there are so many lines in the show that bring the laughter out in the audience. For example, she refers back to the time of Guttenburg inventing the printing press and points to a book that archangel Michael is holding and says "1495 was a time when literacy meant something." This humor has a good effect since modern technology is mentioned in the show like taking selfies and cell phones. The home crowd appeared to get a kick out of her reference to being in New Brunswick, the home of Rutgers, the only state university that doesn't include the state's name they represent in their school title.
As "God" explains the reason for coming down to New Brunswick, we learn that a redo of the 10 Commandments is purpose of the visit. For example, a new commandment is  "Thou shalt not kill in My name."   God looks at the audience and says "It's flattering but not needed." Another very funny one was " Thou shalt not tell Me what to do." Examples given included nuances such as sneezing and you say "God bless you." God replies, "Don't tell me who to bless!"
Amidst all of the laughter though is another side where the concerns of mankind that have been a part of discussion for centuries are mentioned. How does God explain bad things that happen in the world? And why do people have to suffer? These issues provide some very poignant moments in the show.
If you are open-minded and looking to have a good laugh, this show will fill the bill. There are some topics of an adult nature dealing with sex that would make this a show to keep to mature audiences.
Additional Information about An Act of God:
Running Time: 90 minutes – no intermission
Location: George Street Playhouse, 103 College Farm Road, New Brunswick, NJ on Rutgers University's Cook Campus
Performances: Now through Dec. 23, 2017
Contact for Info and Tickets: Visit the George Street Playhouse website at www.GeorgeStreetPlayhouse.org, or call the box office at 732-246-7717.
Suggested Audience: Adult subject matter is presented