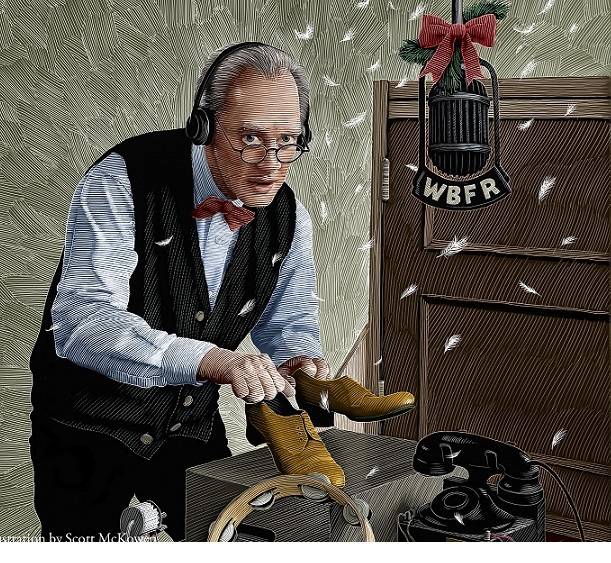 The Shakespeare Theatre of New Jersey ends its 2017 season with an adaptation of a popular holiday film. The show is It's a Wonderful Life: A Live Radio Play. There was a successful staged reading of the play in 2016. The director of that reading, Doug West, returns to direct this new take on a beloved tale. Adapter Joe Landry has brought the 1946 film to the stage where he has gathered a troupe of radio actors and live Foley sound artists to perform It's a Wonderful Life in a 1940s radio station.
Press notes describe the show as follows:
A group of actors and technicians gather in a 1940s radio station at holiday time to perform a live broadcast of It's a Wonderful Life. Replete with Foley sound effects, commercials from the era, and sprinkled throughout with a generous dose of humor and music, this charming piece brings the famous story to life in a new way and fills the theatre with the inspiring spirit of the holidays.
Director Doug West said, "It's a Wonderful Life has been a part of my holiday tradition for years. We've assembled a fantastic cast and creative team for this production, and I'm very excited at the idea of sharing this iconic holiday tale with our audience."
The cast includes John Keabler who reprises the leading role of George Bailey after playing it in last year's holiday reading of It's a Wonderful Life: A Live Radio Play. Susan Maris will play Mary Hatch. Andy Paterson will play the role of Clarence Oddbody.
John Ahlin plays Mr. Potter and Tina Stafford plays Ma Bailey. James Michael Reilly plays Billy Bailey. Javon Johnson plays Joseph. Playing Violet Bick is Elizabeth Colwell with Russell Sperberg as Harry Bailey.
Company member Warren Pace will provide the live Foley sound effects throughout the performance. Mr. Pace is currently the Theatre's sound technician.
The F.M. Kirby Shakespeare Theatre will be transformed into a 1940s radio station by the creative talents of Scenic Designer Charlie Calvert, Lighting Designer Matthew Adelson, Costume Designer Natalie Loveland, and Sound Designer Steven Beckel. The Production Stage Manager is Kathy Snyder.
Tickets
Tickets for It's a Wonderful Life: A Live Radio Play begin at $29 for preview performances and $69 for regular performances. Patrons aged 30 can participate in the 30 UNDER 30 program and can purchase tickets for only $30 with valid ID, subject to availability. For tickets, patrons can call the Box Office at 973-408-5600 or visit www.ShakespeareNJ.org.
The Shakespeare Theatre of New Jersey offers various cost-saving opportunities, including $15 student rush tickets, which are available 30 minutes prior to each performance, with a valid student ID, and a limited number of Pay What You Can tickets for every performance on a first come, first serve basis.