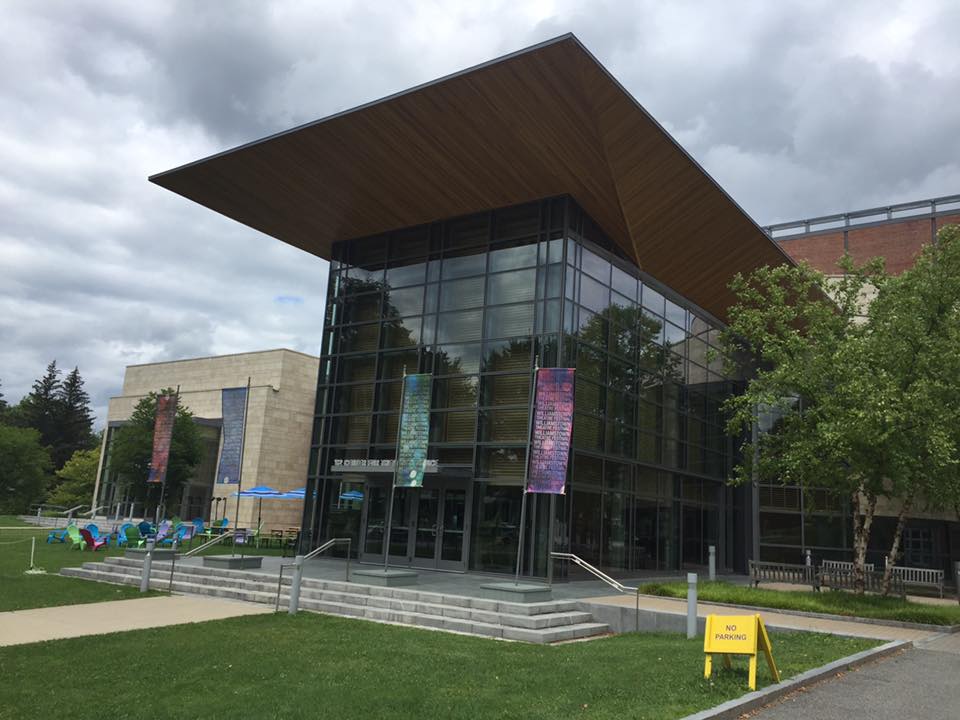 Part 2 of my little theater road trip took me from Bennington, Vermont into Massachusetts to the Williamstown Theatre Festival to see A Legendary Romance. Bennington proved to be a great little spot to stay since it is close driving distance to the Dorset Festival Theatre and about 20 minutes driving time to Williamstown.
Arriving early was a good thing since the building that houses Williamstown Theatre Festival is magnificent. There are several theaters, unique seating, and inspiring artwork.  There are also many photos on the hallway walls from previous seasons and the many shows performed over the years. Especially impressive is the actual layout of the building which allows easy access from the large parking facility through a back entrance way. Once in, the stairs are in wide slabs which makes walking up quite easy. Rest rooms are more than adequate and well kept. The box office is in the main lobby where a snack bar sells a good variety of items. The doors to the outside were open so easy access in and out of the theater became available. It was relaxing to sit outdoors and take in the gorgeous scenery that surrounds the building.
A Legendary Romance
Playing at the afternoon matinee was a new musical titled A Legendary Romance. Music is by Geoff Morrow with a book by Timothy Prager. Lonnie Price directed a cast which included Jeff McCarthy, Lora Lee Gayer, Roe Hartampf, and Jose-Maria Aguila. The play combines scenes from black and white film and live action on stage to tell the story. The plot involves a Hollywood film director who falls in love with his leading lady. They plan to marry but problems arise as the McCarthy era takes victim after victim. Through a series of misunderstands and unspoken conversations, another man steps in and claims the lady. One person dies and one person appears to be guilty. But the director and his lady part never to see each other again. Years pass and the director begins to have dreams and recollections of the events as he attempts to come to some sort of peace.
The play has some very fine music and the actors gave very good performances. The interaction between live acting and the film works well. What needs some work is the clarity of what time period a few of the scenes are in. It was a bit confusing at times. It does come together in the end in a rather surprising way, but a few areas could be smoothed out.
In addition to seeing an enjoyable show, I also enjoyed seeing the Main Stage theater. The seating design, the light colored woodwork, and comfortable seating make this one of the best theaters I have been in.
Final thoughts on Williamstown – fantastic! And it's less than a 3 hour drive for this theater goer. Looking forward to another trip there next year!