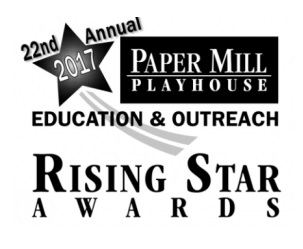 The 2017 Paper Mill Playhouse Rising Star Awards Presented by the Investors Foundation ceremony took place at Paper Mill Playhouse on Tuesday, June 6. The event featured presenters from Broadway and beyond. The ceremony was broadcast live on television and online through Paper Mill Playhouse video partner, Hometowne Television, of Summit, New Jersey.
Eastern Regional High School in Voorhees Township took home the top prize of Outstanding Overall Production of a Musical for their production of Les Misérables: School Edition, along with two other trophies. Union High School and Gloucester County Institute of Technology each took home three trophies at this year's awards.
Other awards presented included:
Five $1,000 cash scholarships to outstanding individual students who plan to continue studying theater performance or technical theater in college.
A prize of $500 to Fair Lawn High School who received the 2017 Educational Impact Award. This award acknowledges a school that successfully connects the musical to the district's curriculum, using the production as a teaching tool for the greater student body and local community.
The Rising Star "Theatre for Everyone" Inclusion and Access Award was presented to Morristown High School.  This cash award of $1,000 is provided in a partnership with The Cultural Access Network of New Jersey, a project of the New Jersey Theatre Alliance and the New Jersey State Council on the Arts. It recognizes excellence in the promotion and practice of creative inclusion of students and adults with disabilities as performers, designers, musicians and production staff. Additionally, this award seeks to recognize and reward a school that takes steps to ensure their performances are accessible to audiences with disabilities.
Students receiving final nominations in the lead and supporting acting categories receive a scholarship to Paper Mill Playhouse's competitive Summer Musical Theatre Conservatory.  This professional training program, along with advanced classes in singing, acting and dance, offers the nominees an opportunity to perform onstage at Paper Mill Playhouse in the season finale concert, "New Voices of 2017: Everyone Loves an Underdog!" on July 28 and July 29.
For a complete list of recipients, consult the Paper Mill Playhouse website at their Rising Star page: http://papermill.org/education/rising-star-awards/award-recipients.html
Previous Nominees and Recipients
A number of past Rising Star nominees and recipients recently appeared on Broadway. The list includes: She Loves Me (Laura Benanti), Noises Off (Rob McClure), and  American Psycho (Morgan Weed).   Also, Aladdin (Josh Dela Cruz, Jonathan Schwartz, Kathryn Allison), Les Misérables (Nikki M. James), Disney's The Lion King (Jelani Remy), Beautiful: The Carole King Musical (Julia Knitel), Jersey Boys (Russell Fisher), and The Phantom of the Opera (Julia Udine).
The list continues with London's West End production of The Book of Mormon (Jared Gertner); the Public Theater's Grounded (Anne Hathaway). and Shanice Williams, star of NBC's The Wiz Live.