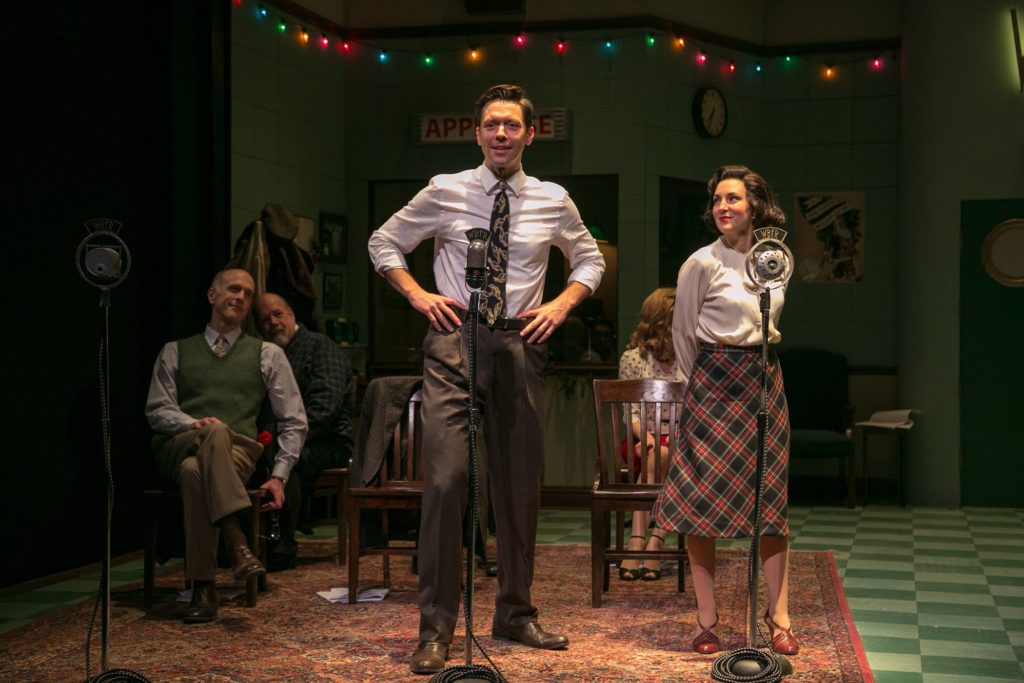 The magic of the season is imaginatively captured this month as the Shakespeare Theatre of New Jersey presents It's a Wonderful Life: A Live Radio Play. The play is an adaptation of the holiday classic film "It's a Wonderful Life." This version shows how it might look being given as a live radio show.  The Shakespeare Theatre's version was successfully staged as a reading in 2016. The same director of the reading, Doug West, takes on the duties with the play using a script adapted by Joe Landry.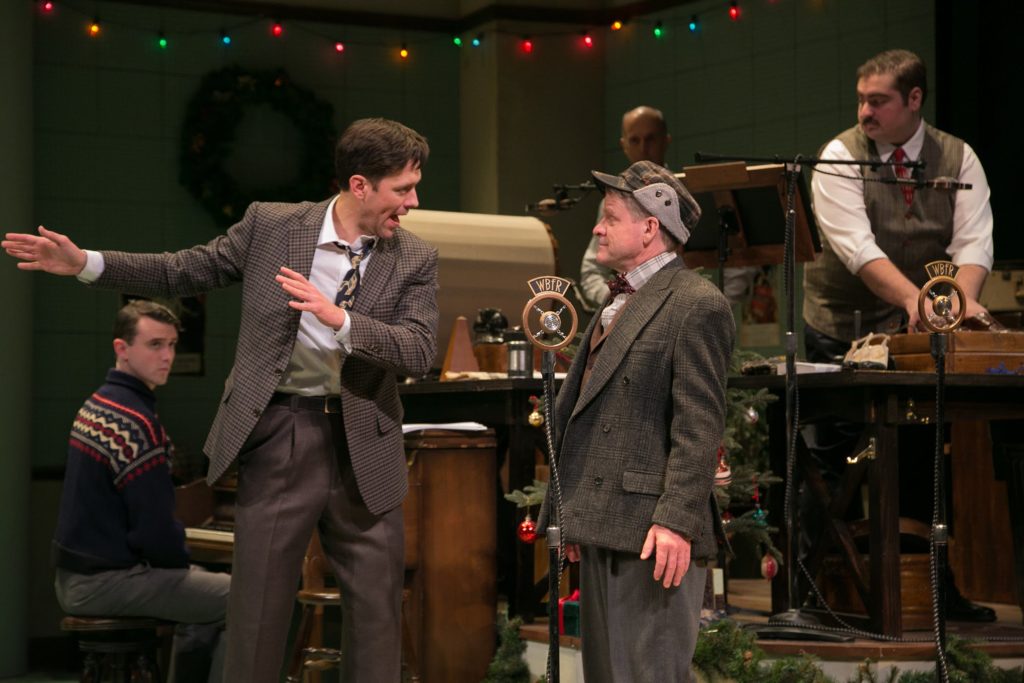 The set for this show is on display as the audience comes to their seats. It is a replica of what the set for live radio show being broadcast in the l940's might have looked like. A few of the players are already on stage acting like they are preparing for that broadcast. To the right side of the stage sits a complete assortment of materials that are used for sound effects.  Live Foley sound artists are a part of the show which adds incredible authenticity to the performance. Items like materials to make door opening sounds and bell ringers display along with an audience favorite, a large cylinder which turns to produce the sound of wind.
What is there about the tale told in this show that makes it so heartwarming? Probably because it is the tale of the average person who deals with their life the best they can. The story of George Bailey is of someone who puts his obligations to his family, community, and town above his own dreams. The miracle of course appears when Clarence, the poor angel trying to earn his wings, comes down to earth to help George when he hits the depths of despair. His despair clouds his seeing what a truly remarkable, wonderful life he has had. So the play ends on a very joyous note with Clarence earning his wings and George reunited with his loved ones celebrating the life he has and now appreciates.
The storyline alone is enough to make this a holiday classic. But the casting for the show is so well done that the characters grow on you maybe more easily than the movie version. Watching the "broadcast" live as an audience member brings things to you in a new light.
The cast includes John Keabler as George Bailey with Andy Paterson in the role of Clarence. John Ahlin plays Mr. Potter and Tina Stafford plays Ma Bailey. Michael Reilly plays Billy Bailey and Javon Johnson plays Joseph. Elizabeth Colwell plays Violet Bick, Russell Sperberg plays Harry Bailey. Company member Warren Pace provides the live Foley sound effects throughout the performance. Mr. Pace is currently the Theatre's sound technician.
This is a wonderful way for the family to get together and see something that is warm, funny, unique, and very much in tune with the season. I highly recommend this show.
Additional Information:
Running Time:  Approximately 2 hours with one 15 minute intermission
Location: The F.M. Kirby Shakespeare Theatre located at 36 Madison Avenue, Madison, New Jersey
Performances: Now through Dec. 31, 2017. Performances are on Tuesdays – Sundays.  Check with the theater or online for matinees and some shows at special times.
Contact for Info and Tickets:   Single tickets begin at $69 for regular performances. Patrons aged 30 and under can purchase tickets for only $30 with valid ID, subject to availability. For tickets, patrons can visit or call the Box Office at 973-408-5600 or visit www.ShakespeareNJ.org.
The Shakespeare Theatre of New Jersey offers various cost-saving opportunities, including $15 student rush tickets, which are available 30 minutes prior to each performance with a valid student ID, and a limited number of Pay What You Can tickets for every performance on a first come, first serve basis.
Suggested Audience: Material is suitable for all ages.
Special Performances:  Post-show discussion with the cast and artistic staff will be held following the Tuesday, December 12 at 7:30 p.m., Saturday, December 16 at 2:00 p.m., and Saturday, December 23 at 2:00 p.m. performances.
The Know the Show pre-show talks are offered free-of-cost. Prior to the show, an artist from The Shakespeare Theatre presents a pre-performance talk providing background information and an inside perspective on the production. This program is free with the purchase of a performance ticket, and for It's a Wonderful Life: A Live Radio Play will be held on Thursday, December 14 at 7:00 p.m., with the show beginning at 8:00 p.m. The Know the Show talk will be broadcast live on the Theatre's Facebook page, so patrons can watch and interact live from home on their electronic device.
Family matinees will be in the final week of performances for It's a Wonderful Life: A Live Radio Play on the following dates: Wednesday, December 27 at 2:00 p.m.; Friday, December 29 at 2:00 p.m.; and Sunday, December 31 at 4:30 p.m.