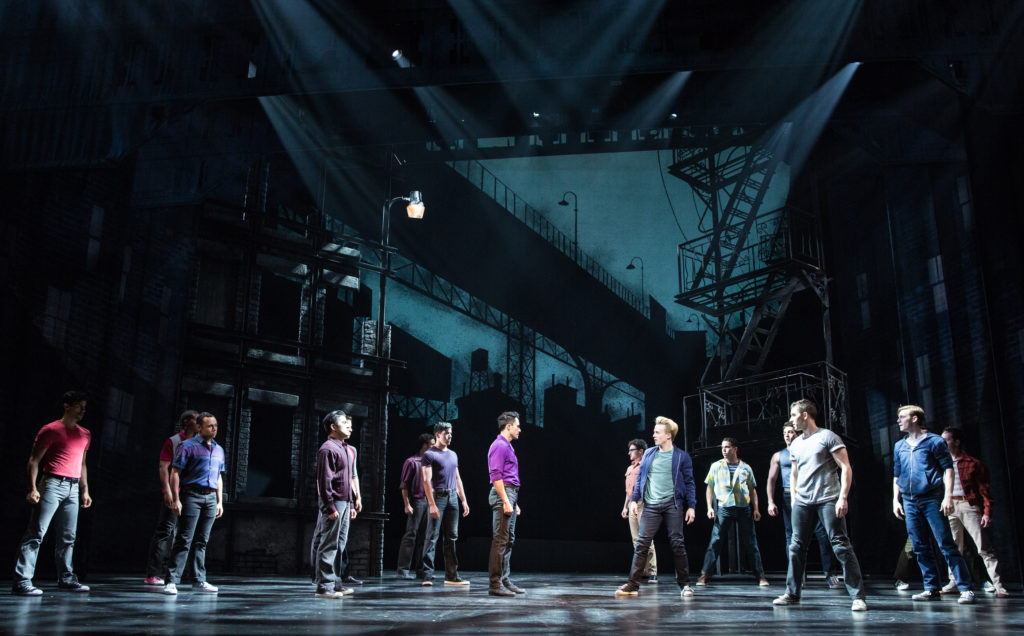 The musical West Side Story opened at the Paper Mill Playhouse last Sunday night. Over the years, this show has become a classic in musical theater. It has a beautiful musical score, powerful dance numbers, and a story which is based on Shakespeare's Romeo And Juliet but is still very relevant today. When it opened on Broadway in 1958, it received numerous Tony nominations but only one win and that was for Choreography by Jerome Robbins. It was edged out of the Tony for Best Musical by The Music Man.
West Side Story was later made into a movie that won a number of Academy Awards including Best Picture. The movie is what many people remember best about it. So why should go to see this onstage at the Paper Mill Playhouse? The reasons are numerous.
First off, as an audience member, you will totally feel a part of the actual story taking place; that's how powerful this show is. As it surrounds you with its sights and sounds, you feel a part of the drama that is unfolding.
Second, the very large stage at the Paper Mill Playhouse gives a lot of room for the dance numbers. The choreography was originally by Jerome Robbins. Alex Sanchez has recreated it allowing it to fill that large space. The dancers can stretch out and run and jump with ease.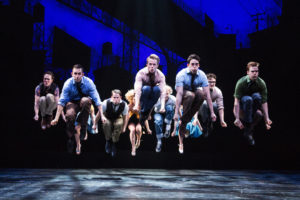 One might argue as to whether the music or the dancing is the most vital part of West Side Story. It's a dilemma worth having and watching and trying to figure out. But there is no doubt about it, the dancing is one of the elements at the heart of the show. Between Scene 1, where the rival gangs, the Sharks and the Jets, present themselves to the audience and each other to Scene 4 which is the gathering at the gym where mambo and dances of the day square off against each other; well those two scenes alone make the show worth seeing. And who can resist the gathering of the girls featuring Anita as they dance to "America?"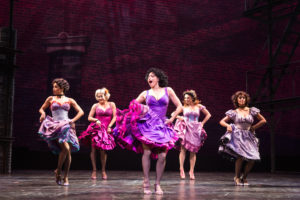 The story is always sad to see unfold. It isn't a happy tale. The first part of the show is sweet as Maria and Tony meet and fall in love. But there is that tension already brewing as the rival gangs begin to rumble. One is thankful for the songs which allow a break from that tension and especially for the famous balcony scene where two first declare their love.
Tony's attempts to stop the rumble are difficult to watch but even worse is the part where he loses his temper and kills Bernardo. High marks go to the all the actors in this show as they play their roles during this and other difficult scenes. A special note should be made of the very poignant performances by Matt Doyle as Tony and Belinda Allyn as Maria. Their wedding night scene is very touching to watch and the final scene where Maria lingers over Tony's dead body is one of the best I have ever seen done. A special shout out goes to Natalie Cortez as Anita. She displays her anger very controlled but very directed and it makes what she says very believable. German Alexander adds some unique and well placed touches as Bernardo and Mikey Winslow plays Riff.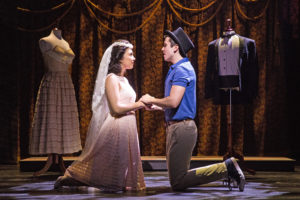 The cast also includes Maria Briggs as Anybodys, John Michael Fiumara as Diesel, William Ragsdale as Schrank, Parker Slaybaugh as Baby John, and Craig Waletzko as Glad Hand. Also in the cast are Danny Bevins, Victoria Casillo, Damian Chambers, Philip Colgan, Brittany Conigatti, Lauren Csete, Tenealle Farragher, Lisa Finegold, Jordan Isadore, Ilda Mason, Kat Nejat, Kevin Michael Raponey, Alexia Sky, Summerisa Bell Stevens, Jayme Wappel and James Allen Washington.
Finally, the music is outstanding and sounds absolutely amazing in the Paper Mill Playhouse.  With a full orchestra under the direction of Steve Orich, Leonard Bernstein's music and Stephen Sondheim's lyrics are wonderful to hear.
The show is directed by the Paper Mill's Producing Artistic Director Mark S. Hoebee, and the musical is based on a conception by Jerome Robbins and features a book by Arthur Laurents. It will only play in Millburn until June 26, 2016. To get tickets or more information, visit the Paper Mill Playhouse's website.