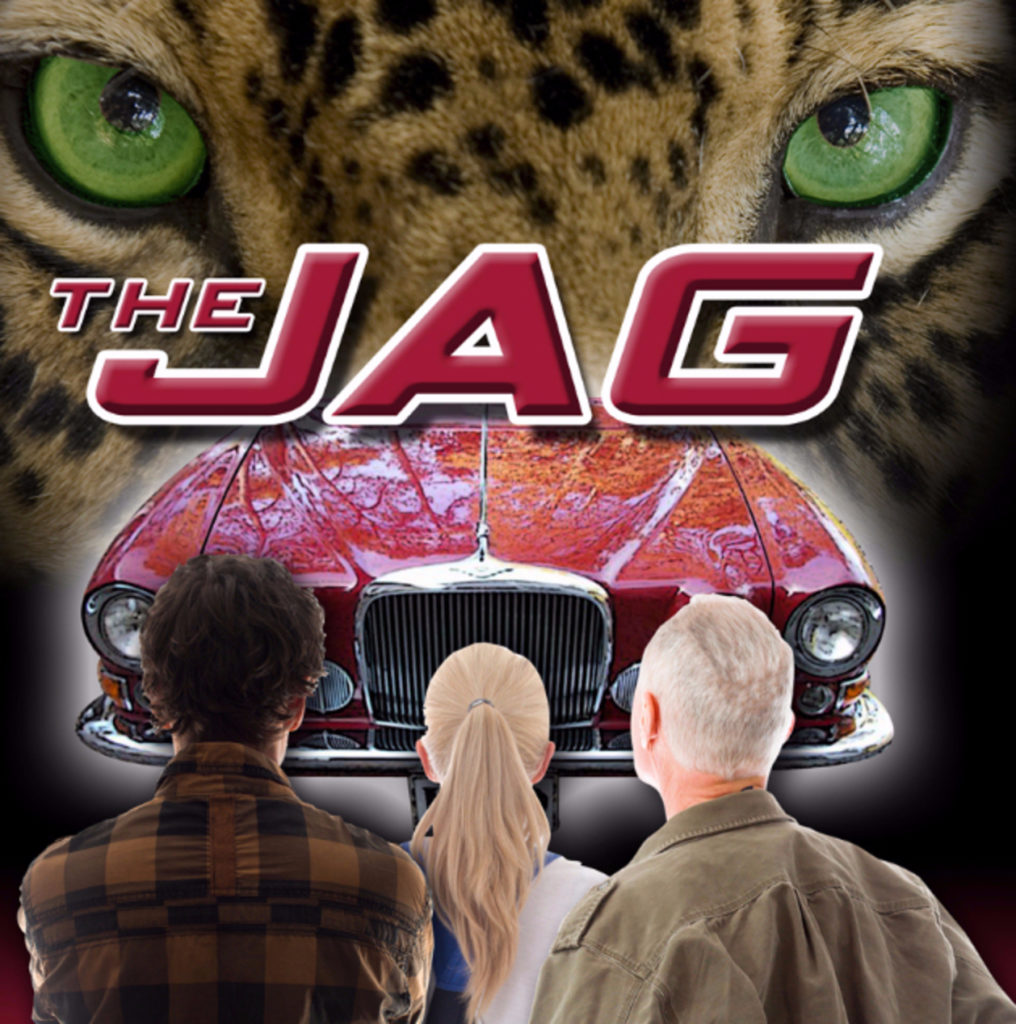 A car can play a very important role in a family's life. It can be the vehicle that takes them places such as their daily work and errands or it can represent their opportunities to go to new places such as a family vacation. In a new play titled The Jag, a white 1967 Jaguar sedan is such a vehicle. However, what is represents to the Chicarella family is much more than transportation. This play that premiered at the New Jersey Repertory Company last weekend tells the story of the family's hidden past and present struggles with each other. It uses a car as its focus to unravel the secrets held for years. The Jag has a well written script filled with great dialog, acting by a fine cast, and a real life, full-sized Jaguar on the stage to add lots of atmosphere to an old garage in which it is parked.
The Jag was written by Gino Dilario. Mr. Dilario is an award-winning playwright whose body of work includes several plays that were premiered at the NJ Rep including Release Point, Apostasy, Winterizing the Summer House and Dead Ringer. His plays have also been seen at numerous locations throughout the U.S. In March, 2017, his new play, Sam and Dede, will have its New York premiere at the 59 East 59 Theatre. Mr. Dilario's play The Jag skillfully develops its story through a step-by- step revelation of who the story's characters truly are. The dialog between the three characters is crisp and quick flowing as it brings out who these people really are. From my viewpoint, the character I liked in the beginning of the story was not the one I ended up caring up about at the end and the one I didn't like in the beginning became the winner in the end. That's how carefully the development is in this script. For those who like to watch personality evolution on stage, this play is for you.
The Jag is directed by Brendan Burke and stars Dan Grimaldi, known to many as the identical twin mobsters Patsy and Philly Parisi of The Sopranos, Christopher Daftsios and Estelle Bajou. The script is in fine hands with this cast acting jout the roles of Leo "Chick" Chicarella (Grimaldi), Donald "Bone" Chicarella ( Daftsios), and Carla Carr (Bajou).
Grimaldi plays Chick hard-nosed to open the play as he talks with his son, Donald, about the family car in need of repairs. The Jaguar has been sitting around Chick's garage needing refurbishing for years. The garage was the business Chick ran but can no longer do because he is nearly blind. But we learn later in the play that the car belonged to Chick's other son who is dead. Daftsios plays his part as Donald very firmly in the beginning trying to aid his father to try to get the car into good enough shape to sell. Chick can't seem to let go of the car and Donald desperately wants to see it leave the garage. A third character, Carla, enters as someone who gets hired by Donald to complete the repairs needed so he can make good on a fine offer he has from someone who wants to buy the car. Carla's character is the tipping point of the play. Bajou play Carla in a most delightful way as someone who is a bit naïve about life, but who knows everything there is to know about Jaguars. Her repair and refurbish skills are legendary and she comes through for the Chicarella family's Jaguar. All is going well until the car's refurbishing is nearly complete. And then, stories unravel, and all three characters need to decide how involved they can stay in this project. The end is a bit of a surprise, one that theater goers will have to decide whether they like or not because it represents a strong dose of reality that could likely occur with the dysfunctions of such a family.
The other "star" of this show is the Jaguar itself that is fully in tact at all times on the stage. It is a beautiful car to see and in many ways, it just doesn't seem to fit in the setting it is in. Maybe that's a clue to those coming to see this play. The ill fit of the car will give you clues as to what the outcome is. The Jag is well worth coming to see.
About the show
Running Time: approximately 90 minutes, no intermission
Location: New Jersey Repertory Company, 179 Broadway, Long Branch, NJ
Performances: Thursdays, Fridays at 8pm; Saturdays at 3pm & 8pm; Sundays at 2pm.
Contact for Info and Tickets: Group and student rates are available to select performances. For tickets call 732-229-3166 or visit their website at www.njrep.org
Suggested Audience: Adult audiences due to some strong language. Theater goers who have an interest in Jaguars and vintage cars will really enjoy this show.