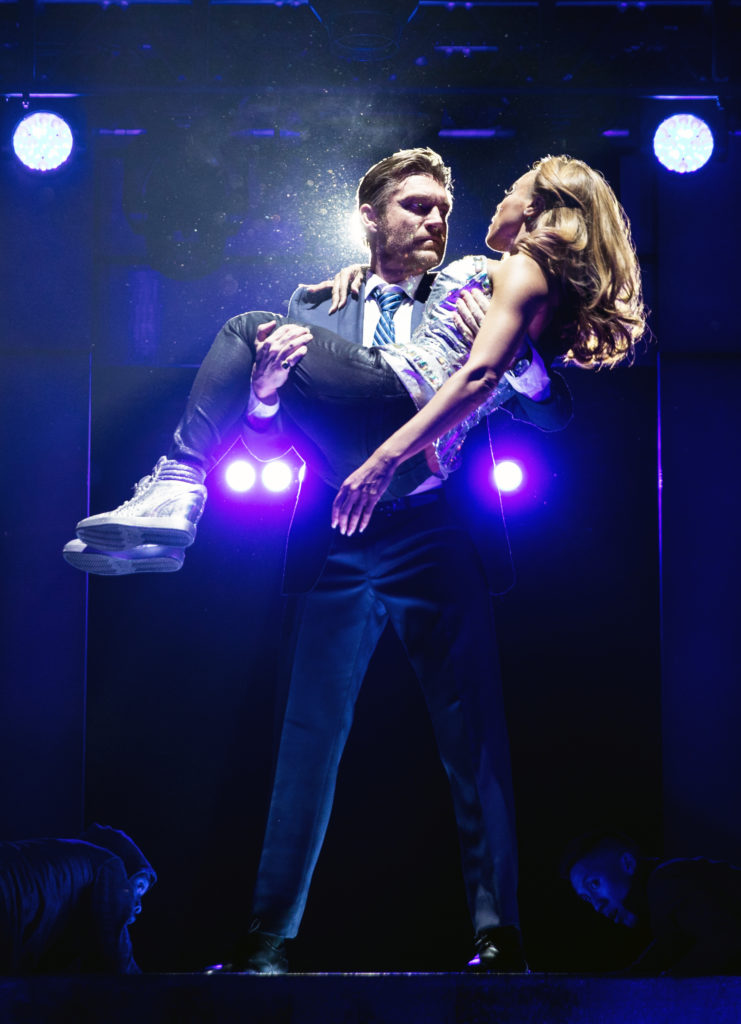 A new show in the U.S. is enjoying its pre-tour run at Millburn's Paper Mill Playhouse. The show, a musical called The Bodyguard, is based on the Warner Brothers film of the same name that was written by Lawrence Kasdan. The 1992 film starred Whitney Houston and Kevin Cosner. The film delighted fans of Jersey Girl Whitney Houston and Cosner fans too. With the casting for this new musical, it could be headed in that same direction as the film only this time it will delight fans of Deborah Cox and Judson Mills who fill the leading roles. The Bodyguard comes to the U.S. directly from the United Kingdom where it first ran in London in 2012. It has since toured the U.K., Ireland, and parts of Europe. It is now back onstage in London for a short run. This run at the Paper Mill precedes the start of a national tour due to begin in January, 2017 in Minnesota.
With a book by Alexander Dinelaris, direction by Thea Sharrock and choreography by Karen Bruce The Bodyguard is a big, high volume show. What is the biggest appeal of this show? Without a doubt it is the musical performances and especially those by Deborah Cox. Just as the film was a showcase for Whitney Houston, this musical allows Ms. Cox to perform well known and very popular songs for the audience. The songs are hits that Whitney Houston made famous. However, make no mistake about it, Ms. Cox puts her own distinctive sound on each and every note. She is not a Whitney Houston imitator; she is an artist in her own right and her style is firmly on the nine solo songs and the group and ensemble numbers she performs. To listen to her sing is to hear a velvet tone voice in action. She also is a darn good actor as well as she plays her character, Rachael Marron. Another excellent singer is Jasmin Richardson who plays Nicki Marron, Rachael's sister. Their duet, "Run to You" is one of the highlights of the show.
There is the singing part of this show and then the acting portion where the story gets told. It starts with a very loud bang (which knocked the audience off their seats Opening Night) when a gun is fired at a person whom Frank Farmer is guarding. Farmer, played by Judson Mills, is seen standing by the injured man but unfortunately, we only learn by chance later in the play that the incident led to his taking on the duties of protecting Rachael Marron. He is hired for that job because someone is stalking her and threatening to do her great harm. That stalker, played by Jorge Paniagua, shows up unexpectedly and in a very creepy fashion throughout the show. His appearances are well entered into the story leaving the audience uneasy at times. As the story progresses, we learn that Rachael's sister, Nicki, has an interest in Frank; but we don't how it began or why. Rachael and Frank battle at times but eventually become lovers. However, as Frank realizes this affair could jeopardize the way he does his job to protect her, he breaks it off with Rachael. The remainder of the story leads up to a scene at the Academy Awards where the stalker is apprehended and finally the ending where Rachael's song "I Will Always Love You" has a very definite meaning. The story line is thin in parts but there is enough good acting to carry it off very well.
In addition to Cox and Mills, the principal cast includes Alex Corrado as Tony Scibelli, Rachel's personal security guard, Charles Gray, as manager Bill Devaney, Jonathan Hadley, as publicist Sy Spector, Jorge Paniagua as the Stalker, Jasmin Richardson as Rachel's sister Nicki Marron, and Douglas Baldeo and Kevelin B. Jones III alternating in the role of Rachel's son Fletcher.
The ensemble includes Arielle Campbell, Brendon Chan, Jarid Faubel, Megan Elyse Fulmer, Emily Jenda, Alejandra Matos, Bradford Rahmlow, Benjamin Rivera, Matthew Schmidt, Maria Christina Slye, Jacquez Andre Sims, Lauren Tanner, and Naomi C. Walley.
There are a lot of good things about this show. It is worth going to see for the musical numbers alone. They are exquisitely choreographed with a strong dance ensemble and singers. Debra Cox is fabulous in all she does and her fans will enjoy coming to see her in this role.
Those who have issues with loud sounds or bright lighting will have to be cautious while watching the opening number and one other ensemble presentation.
The Bodyguard will play at the Paper Mill Playhouse, 22 Brookside Drive, in Millburn, NJ through Jan. 1, 2017. Several additional matinee performances were recently added so be sure to check their website, papermill.org for availability of tickets.
Free Audience Enrichment Activities for The Bodyguard:
Conversation Club: Thursday evenings, Dec. 1, 8, 15. 22 one hour before the curtain. This is an informal, informative gathering where you can learn more about the performance and perhaps catch a glimpse of the stage being set.
Audio-Described Performances – Sunday, Dec. 18, 2016 at 1:30 p.m. and Saturday, Dec. 24, 2016 at 1:30 p.m. Free Sensory Seminars are offered at noon before these performances.
Sign-Interpreted and Open-Captioned Performance – Sunday, Dec. 18, 2016 at 7:00 p.m.