The New York Musical Festival 2016 is in full swing. I was able to make my first visit this past Sunday, July 24 when I saw two shows.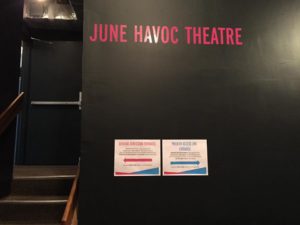 The first show was at the June Havoc Theatre on W. 36th Street. This was my first time in this venue. It's a black box style theater. On a very hot summer day, the air conditioning was running well and there were plenty of amenities such as easy access, bathrooms, etc. I saw A Scythe in Time which is based on two stories from a master of short stories, Edgar Allen Poe. The two stories, "How to Write a Blackwood Article" and "A Predicament" are combined to make this show. A Scythe in Time has a book by Alan Harris. Music and lyrics are by Mark Alan Swanson. Let your imagination carry you through this show because when you do, it is fun to see despite the dark basic theme that runs through the show. The songs are well written and the singing from the cast alone is worth going to see.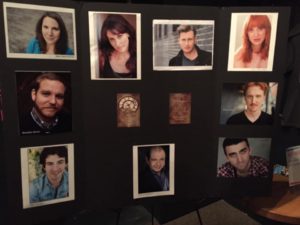 I was very impressed with P.J. Griffith who plays Blackwood and Lesli Margherita in the role of Zenobia. Also sending big applause to the entire cast for their performances in this very unique show.
After a break, I headed to the Duke Theatre on 42nd Street which had the AC going full blast (bless you!). The Duke has very comfortable seating even for us long legged theater goers. At 5:00, I saw The Last Word which has a book, music, and lyrics by Brett Sullivan and additional lyrics by Ryan Cunningham. The story takes place in the 1970's about a group of friends who need to get to a national Scrabble championship to win the prize in order to save a family restaurant. The storyline shows what they go through to get to the competition and what eventually happens at the competition and afterwards.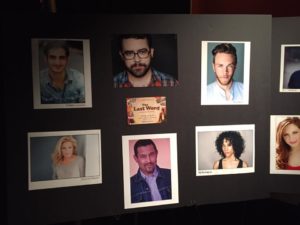 Music for the show leans towards rock with group numbers and individual songs. The choreography was fairly basic but well rehearsed and it added to the fun of the performance. The acting was very good and I was pleased to see Felicia Finley playing Earlene with a western twang to the character. The lead, Nathan Lucrezio (Jay) played a very fine part along with his friend, Neil, played by Travis Kent. The story has some clever ideas in it and the music keeps it moving along very well.