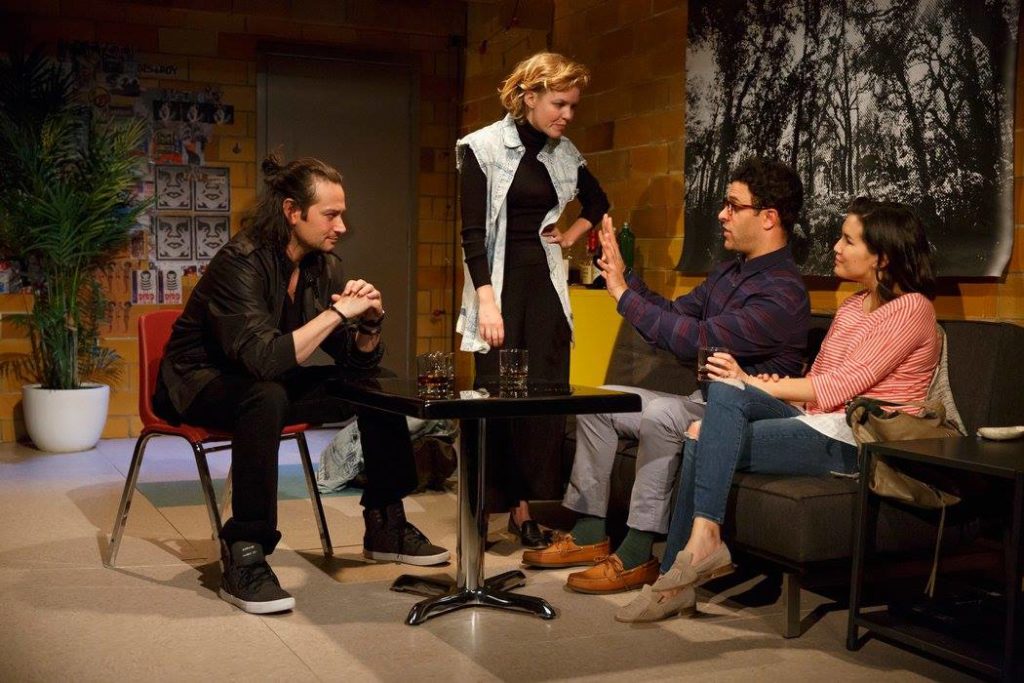 A play titled Friend Art finishes its run tomorrow at the 2econd Stage Theatre Uptown. Written by Sofia Alvarez and directed by Portia Krieger, it is a good play which is on the surface light-hearted but underneath it has some serious things to say.
The lightheartedness comes through when one of the characters, Lil, makes continued attempts to produce a solo performance artist piece.  The recitation is funny and it involves a stuffed snake which later serves a more "sensuous" role. Lil's friends, Kevin, Molly, and Nate, are among the few who come to see her shows. They do it because she is a friend and since she is their friend, they go to support her hence the title of the show, Friend Art. The show continues with Kevin and Molly trying to plan their wedding and an impending move. However, at some point, Kevin decides to taste what it is like to be in the world of real art. He teams up with Lil to bring in a better quality to her show and hopefully to increase the size of the audience. This leaves Molly to develop a new relationship with Nate. Nate is the character who had been a one hit wonder in the record business years before. He made enough money that he was able to buy a nice loft in Brooklyn and not have to work. This frees him to pursue an aimless existence. He's not really pleased with where he is at but he isn't sure of where to go from there.
All of the situations that the four characters are involved in provide a reason for examination of a deeper situation past the light hearted look of the just the performance that Lil gives. In this case, that situation is all about moving into a new part of adulthood and taking on new responsibilities.  We also get a chance to reflect on the value that friendships hold in our lives and how they can be so vital to us at certain points, but then change to a new relationship as own on life situations changes.
Three of the characters in the show, Lil, Molly, and Kevin, are a part of the Millennial Generation and the fourth, Nate, would be on the cusp between the Millennials and Gen X.  So it should not be unexpected to see them grappling with life changing situations. The Millennial Generation is already proving themselves to be a fascinating group of people who are already influencing the arts, culture, and business. This play is timely in looking at their changing life situations.
The cast for this show includes Anabelle Lemieux as Lil, Zoe Chao as Molly, Aaron Costa Ganis as Kevin and Constantine Maroulis as Nate. Each character was well developed and leave few if any questions in the minds of the audience as to what they are about. Fine performances are seen from this group.
The show, which runs approximately 85 minutes, moves at a quick pace in spots but it allows character development in several pivotal points. It would have been nice to see an extension given to this show at the 2econd Stage Uptown Theater. But like the characters in the show it appears to be time to move on. Hopefully, it will surface again soon in some Off-Broadway location.