Time honored shows are always in order when the holiday season is upon us. The Paper Mill Playhouse delivers the perfect one for this time of year with the hit Broadway Tony Award-winning musical Annie. Children of all ages will enjoy this show which features an outstanding cast who wowed the Opening Night audience. In addition to the fine cast, the story is heart-warming and the music is  well performed by a full orchestra. What more do you need? Wait, there's even a dog who appears on stage! Yes, Sandy is there with Annie to complete the picture.
The musical Annie is based on "Little Orphan Annie," with book by Thomas Meehan.  Music  is by Charles Strouse and lyrics by Martin Charnin. Paper Mill's Producing Artistic Director Mark S. Hoebee provides direction with choreography by JoAnn M. Hunter and musical direction by Jeffrey Saver.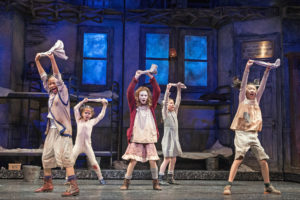 The story centers around a little girl named Annie who lives in an orphanage in New York City. Under the control of Miss Hannigan, she and the other little orphan girls have a difficult life. They sing about it in "It's the Hard-Knock Life" which is one of the highlights of the show. The Annie orphans include Gabby Beredo as Pepper, Tessa Noelle Frascogna as Molly, Michelle Henderson as Duffy, Eve Johnson as Tessie, Lauren Sun as July, and Sloane Wolfe as Kate. These young performers are loaded with talent and a warm stage presence. The moments they are in the show are among the best. Look for some if not all of them to be on Broadway some day!
Annie holds dear to her heart a half of a locket which was left with her when her parents dropped her off at the orphanage years before with a note that they would return for her. This helps Annie maintain a continual sense of optimism which she sings about in another classic from the show "Tomorrow." On Opening Night, Cassidy Pry played the lead role. She was marvelous to watch; a true professional in her singing, dancing, acting, and even the way she watched out for her dog, Sandy. The role of Annie will be done in rotation between Cassidy and Peyton Ella.
Annie tries to run away but is always returned to the orphanage. She finally luck out when billionaire Oliver Warbucks brings her to stay with him at his mansion for the holidays. Her wonderful outlook on life wins his heart and those of his staff leading to an eventual very happy ending for her and the other little girls. Christopher Sieber plays the Warbucks character with loads of heart and love for children and people in general. His voice is strong especially on the lovely "Something Was Missing" in the second act. His ability to blend his voice is well with others is seen in a fabulous song "NYC" where the spirit of the City comes alive.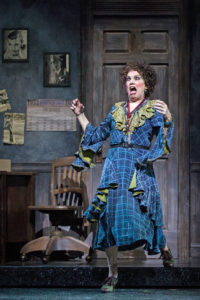 And then there is Miss Hannigan played by the fabulous Beth Leavel. Her scenes are so funny that at times, you want to burst out laughing just seeing her come on stage. The frequent hits of the liquor bottle add to hilarity of the character. Ms. Leavel's singing is right on point in "Little Girls."  She also shines with two other wonderful players, Cooper Grodin as Rooster  Hannigan and Kim Sava as Lily St. Regis in "Easy Street."
Other member of the principal cast include Erin Mackey as Grace Farrell and Kevin Pariseau as Franklin D. Roosevelt.
Rounding out the cast are Damien Brett, Shavey Brown, AnnEliza Canning-Skinner, Lynn Masako Cheng, Stacia Fernandez, Michael Coale Grey, Ruby Griffin, David Hess, Stacey Todd Holt, Joshua Israel, Allen Kendall, Kate Marilley, Bronwyn Tarboton, and Amy Van Norstrand.
The production team includes original set design by Beowulf Boritt, scenic coordination by Jared Rutherford, original costume design by Susan Benzinger, costume design for Paper Mill Playhouse by Leon Dobkowski, lighting design by Charlie Morrison, sound design by Randy Hansen, hair, wig and makeup design by Leah J. Loukas, and animals by William Berloni.  The production stage manager is Victoria Navarro.
This was my first time seeing a professional company perform Annie and I thoroughly enjoyed it.  The Paper Mill Playhouse really does a marvelous job with this show. Special bravo shout out to Director Mark S. Hoebee for putting together a most amazing holiday show for all to see.
additional information
Running Time: 2 hours 15 minutes plus one 15 minute intermission

Location: Paper Mill Playhouse, 22 Brookside Drive, Millburn, New Jersey
Performances:  Eight times a week, Wednesday through Sunday. The performance schedule is Wednesday at 7:00 p.m., Thursday at 1:30 p.m. & 7:00 p.m., Friday at 7:00 p.m., Saturday at 1:30 p.m. & 7:00 p.m. and Sunday at 1:30 p.m. & 7:00 p.m. Visit www.PaperMill.org for special holiday schedules.
The show runs now through December 31, 2017.
A special autism-friendly performance of Annie takes place on Wednesday, December 27, at 1:30pm. This performance is designed specifically for children on the autism spectrum and or with other developmental disabilities and their families, and is planned in cooperation with Paper Mill Playhouse's Autism Advisory Team. The theater environment is altered for this performance, providing a sensory-friendly, comfortable and judgment-free space that is welcoming to all families. The performance itself will be adjusted with special attention paid to lighting and sound.
Contact for Info and Tickets: Tickets are on sale starting at $34. Tickets may be purchased by calling 973.376.4343, at the Paper Mill Playhouse Box Office at 22 Brookside Drive in Millburn, or online at www.PaperMill.org. Visa, MasterCard, Discover, and American Express accepted. Groups of 10 or more can receive up to a 40% discount on tickets and should call 973.315.1680. Students may order $23 rush tickets over the phone or in person at the Paper Mill Playhouse box office on the day of the performance.
Suggested Audience: Annie is appropriate for all ages.