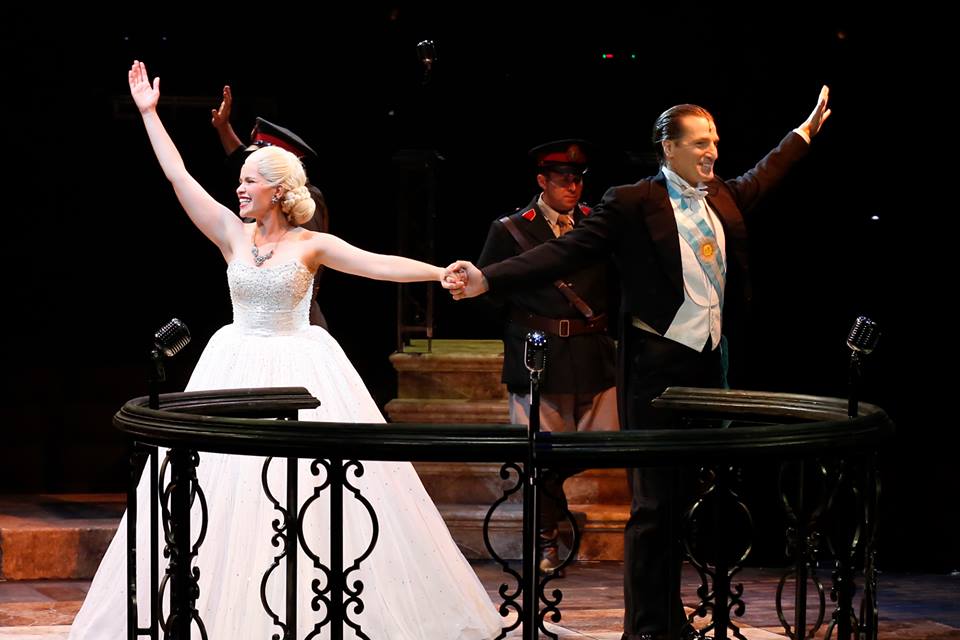 An opportunity for another road trip to Massachusetts presented itself this week, so into the car I went. This time the destination was North Shore Music Theatre in Beverly, MA to see Evita. Everything about this show is fabulous: the staging, the cast, and the orchestra. I saw the original Evita on Broadway years ago. The music is by Sir Andrew Lloyd Weber and lyrics by Tim Rice. I also saw the movie several times. This show uses components from those versions and also the revivals that have played the last few years. It is Broadway quality all the way.
Evita is the story of the rise to power of Argentina's First Lady Eva Peron. It traces her beginnings as a child raised in a poor, working class family. It then shows the steps she took to get to power, her charity work, and finally her early death at 33 years old. The story is completely told through songs and musical dialog.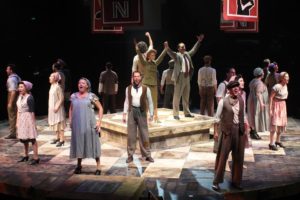 This is a theater in the round and the challenges of delivering a performance that all audience members can see is handled very well. There are screens for projections scattered throughout the theater and even an upper level where a side stage comes to life. The energy level is high as the cast moves up and down the aisles to go on and off the center stage. A platform square in the middle of the main stage allows some props and performers to enter and exit from a level below.
There are many wonderful and very enjoyable moments in this show. It would be impossible to document them all here in this posting. Two that really stood out for me were "Good Night and Thank You" when Eva is working her way through a series of lovers. As her time with them finishes, they walk to an iron gilded door that Che opens to let them out as he sings about their time being done. As they stand on the other side of what represents Eva's room, they try to figure out what has happened to them as Eva moves onto her next prey. Another standout moment is the final funeral scene, "Montage," where actual footage of her funeral is run on screens throughout the theater and the full cast is onstage in homage to their fallen Evita.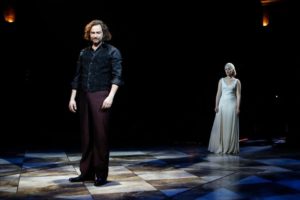 Constantine Maroulis gives a brilliant performance as the narrator, Che. He moves from the center stage to sections of the audience speaking to people as he does. At one point, he is a waiter in a nightclub and he walks up an aisle and acts like he is taking drink orders and handing them out. At times, he stands aside blending in as one of the audience. This lets everyone feel a part of the action taking place. He sings in a strong rock tenor voice. Some say that Che represents the conscience of the people. Along that line of thought, Mr. Maroulis does a fine job of showing some very stirring emotions as he points out the absurdity of what has taken place and the enormous disappointment for what could have been.
Briana Carlson-Goodman plays Eva. Her performance is impressive, stirring, and wonderful to watch. Her Eva has a very desirable quality to her. This vibe makes the admiration from the people for her very believable. Ms. Carlson-Goodman's Eva is strong as she moves her way into Buenos Aires life. But then she is very vulnerable as her health fails her and she prepares to die. The scenes between her and and Juan Peron are very powerful, and at times, a bit frightening as she weaves her influence around this man. Her voice was absolutely beautiful especially in "Don't Cry for Me Argentina."
John Cudia plays Juan Peron, an ambitious military officer who works his way up the ladder to eventually become President of Argentina. Would it have happened without Eva at his side? Hard to tell because she tells him "I'd Be Surprising Good for You." He believes and they set out to become the new super couple leading the country. Mr. Cudia has a strong presence about him and his vocals are powerful. He also masterfully handles the side of Peron that in a sense falls victim to his wife's desires and needs.
Nick Adams gives a wonderful performance as Magaldi, the Argentinian tango singer who meets 15 year old Eva Duarte. His voice soars as he sings "On this Night of a Thousand Stars." If the real person sang like that, then it is no wonder that Eva was enchanted with him. Well at least for a short time. Just enough time to use him to get to her next stop in life.  Julia Estrada sings a lovely version of "Another Suitcase in Another Hall." Her time as Peron's mistress ends as Eva moves in and puts her out to the street.
The members of the ensemble are exciting to watch in multi-roles and scenes. They are a talented group as they dance, sing, and act in a number of scenes.
The entire production is directed by Nick Kenkel who also choreographed the show.
The North Shore Music Theatre
I am continually amazed by the many accomplishments of regional theater. So much devotion to the art goes into their work.  I was fortunate to be able to sit in on a talk-back after the performance. We learned that the rehearsal time for the show was just short of two weeks. However, planning and designing for it began a long time before that. Producing Artistic Director Kevin Hill said that they are already doing work on shows that will run in 2018. After hearing that, I could understand how much thought and care goes into each show.
A quick survey before the show began showed the majority of the audience were season subscribers. I had conversation with people I sat next to and they are regulars and have been for years. Their enthusiasm for the show was contagious. Every person who worked for the North Shore Music Theatre that I came in contact with was very pleasant. The level of customer service is very high.
Backstage Bistro
The Backstage Bistro is a restaurant theater goers and the general public can go to for a meal or a drink before the show. It adjoins the parking lot and the stairway is close to the entrance by the Box Office.  They have buffets set up for the meals which makes it very convenient to eat and be in time for the curtain. There is also a bar for those who just want a drink. The food is very good with a nice variety of selections.