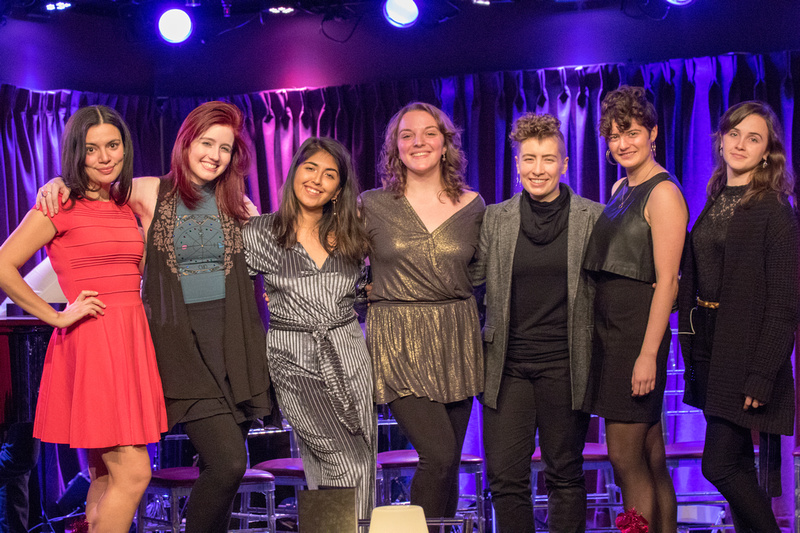 A unique and lovely evening of song took place on Dec. 16, 2017 at New York City's Green Room. A cabaret show called Here and Queer took place on one of those very cold nights we experienced that month. But the atmosphere was warm and welcoming. The room was decorated for the holidays and it added to the festive feel provided by a marvelous group of all women singers. Their fine presentations of the songs was well received by the audience who appeared to want to stay even longer.
The premise of Here and Queer was taking classic and contemporary Broadway favorite tunes typically sung by heterosexual couples and having them performed all by women. The result is that songs which celebrate relationships and what they might bring with them become more universal in that everyone can relate, regardless of sexual identity.
Songs like "Somewhere" from West Side Story, "If I Loved You," a duet from Carousel, and "You Matter to Me" from Waitress are examples of some of the lovely selections performed that evening. A finale of "I Am What I Am" from La Cage aux Folles concluded the evening on a perfect note.
There is no doubt that the idea of the evening was a very clever one. But what really made it standout were the strong, melodic voices from the cast of the show.  There was a lot of heart and soul added to each performance which both delivered a message and entertained at the same time.
The event was directed by Jenn Maley with music direction by Jake Turski.
A  comic served as emcee for the event who did a fine job keeping the event moving with quips that fit the event with a nice bit of humor.
The cast of singers included Lina Marie, Morgan Dean, Shazdeh Gabriel, Kat Griffin, Ilene Pabon, Emily Wronski, and Bridget Elise Yingling. Shown here are some photos of this event taken by Lianne Schoenwiesner of Spotlights Photography.
Photos