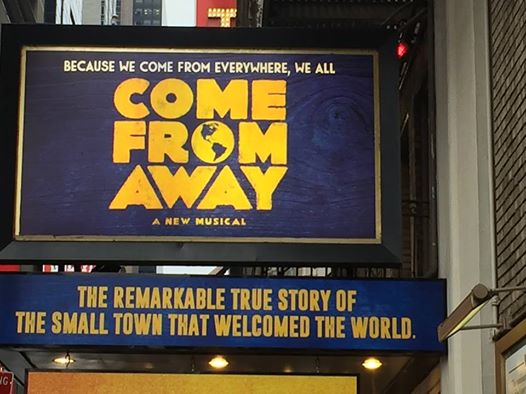 Come From Away is a Hit this Spring 2017 Broadway Season
Although 9/11/2001 was 16 years ago, memories are still fresh in the minds of many people. You don't see much theater dealing with this topic. So when I read that this show, Come From Away, was trying to make its way to Broadway, I was a little skeptical. Could a musical portray what happened that day in a compassionate way without being too dark?  It took a long time for the country to recover. So what approach would a show use? Would it offer hope for the future?
The good news is that it does all of the above and more. Come From Away officially opened at Broadway's Schubert Theater to some very fine reviews on March 12. I grabbed an available ticket during the previews because I did not want to miss a chance to see it. It was a very enjoyable show because it handles a difficult topic in a unique manner.
Irene Kankoff and David Hein wrote the book, music, and lyrics.
The story centers on the 38 airplanes redirected from their intended international destinations to Gander, Newfoundland.  The location is a small rural village. However, the residents provided almost 7,000 stranded passengers and some pets with shelter, food, phones and moral support for about five days. Story lines about some of the passengers featured throughout the show include one mother whose son is a fire fighter in NYC.  Another is a woman pilot who worked her way up the ranks.
The music is combination of rock, celtic, and a bit of folk.  All songs are performed as group numbers. A few feature an individual cast member who tells their story. The ensemble approach works well in this show and it keeps the one hour, 40 minute production moving along without a slow moment. There is no intermission.
Obviously, one can see the compassion involved with the storyline, but where is the hope? It's right there in the fact that people of all races, creeds, and colors can co-exist and help one another as actually happened during those five days. This show is a tribute to the fact that people are all just people down deep. Showing that care and respect for each person truly makes this show a joy to see.