It was time for a summer theater road trip a few weeks ago.  First stop was the Dorset Theatre Festival to see The Legend of Georgia McBride.  I hit gold!  This play is well-written with a lot of laughs but it also has a serious side.  It is a fun show and very entertaining.  High marks go to the Dorset Theatre Festival for this production which is first rate.  There are gorgeous costumes, a set designed to keep the action flowing, and a marvelous cast that got the audience cheering for the characters.
Written by Matthew Lopez and directed by Stephen Brackett, The Legend of Georgia McBride opens with an Elvis impersonator, Casey, performing at a little club in Panama City, Florida. Casey is bound and determined to be a success onstage. But he is not making enough money to pay the rent for the little apartment he and his wife, Jo, live in. When things look their worst, the club owner, Eddie, tells Casey he has to let him go. The club is near bankruptcy. In an attempt to save it, Eddie brings in Miss Tracy Mills and side kick performer Rexy.  They are drag queens and his hope is that their show will bring in a new audience to save the club from going under.
As the two new club performers take over Casey's dressing room, he reluctantly accepts a position to be a bartender at the club. But when Rexy passes out right before a performance, Tracy quickly recruits Casey to take the spot.  Only one problem: he's never been a drag performer.  Although he is nervous, he takes a chance. Those scenes where Casey gets dressed in drag for the first time and takes his first steps onstage are worth the price of admission alone.
There is a lot more to the story as it unfolds and Casey finds he loves his new found persona. However, he is a straight man with a wife, a new baby on the way, and a reputation as a former football player. So he decides not to tell Jo. He lives a double life for awhile and all goes well. He makes good money, the club thrives, and everyone starts to get along. Yes, all is well until his wife learns that he is not working as a bartender. Her reaction and his need to decide how to live his life make for some interesting theater.  Poignant moments occur when Rexy and Tracy each tell Casey their own story. Painful as it is, they are both survivors and that inspires Casey to allow his alter ego, now known onstage as Georgia McBride, to continue performing.
Joey Taranto plays Casey.  Mr. Taranto impressively struts across the stage as he first impersonates Elvis and then a phenomenally talented drag queen.  With a fine sensitivity, he moves Casey through  a series of life changes which would rock anyone's soul and makes it all believable. Vasthy Mompoint brings a sweetness to the role of Casey's wife, Jo, that becomes necessary for a woman who suddenly finds herself married to a man quite different from what she thought he was. She also changes quite a bit from the first scenes in the show to the final scene.
David Turner gives a strong performance as Miss Tracy Mills. He creates a character who is determined to make the most of what might be his final chance to make a success of himself.  Jon Norman Schneider does a very fine job in a difficult role, Rexy. The character's substance abuse issues are part of a complex person who struggles to keep going on. Denny Dale Bess plays Eddie, the club owner. He is basically a good guy and Bess gets that aspect to show through as he strives to keep the business going.
The Theater at Dorset, Vermont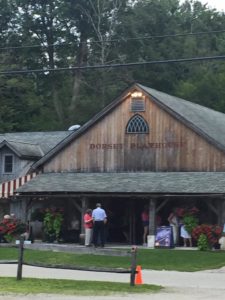 The Legend of Georgia McBride plays through August 20, 2017. If you are in the area and looking for an enjoyable theater outing, visit the Dorset Theater, 104 Cheney Road, Dorset, Vermont.
The building that houses the theater is rustic with a beautiful design. Visit their café for a little snack before the show and weather permitting, take in that clean, Vermont air with a seat in their outdoor area.
For this theater goer from the New York/New Jersey area, I loved the fact that the theater sits on a quiet little road.  Parking was free, plenty of it, and really close by! This theater will be on my list for visits in the future.
Check the Dorset Festival Theater website for more information.