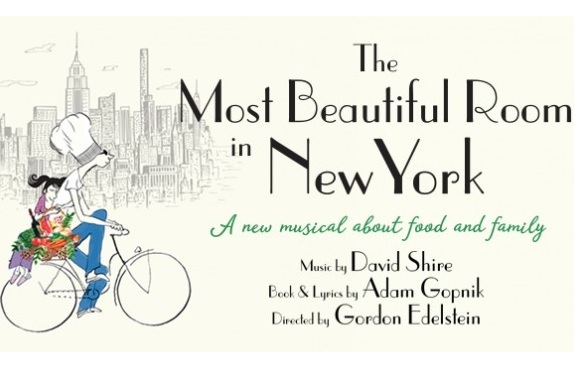 Restaurants are big business in New York City.  A Business Insider article from 2011 estimated 80% of them close down in the first five years after they open. When one reaches 20 years in business, it seems like they are doing something right. So, why would one that is successful close? This subject provides the basis for a new musical, The Most Beautiful Room in New York, now running at New Haven's Long Wharf Theatre.
Music for The Most Beautiful Room in New York is by the award-winning composer David Shire with lyrics and a book by The New Yorker magazine writer and book author Adam Gopnik. Long Wharf's Artistic Director Gordon Edelson directs an outstanding cast. This is a new show having a premiere run. It is a bit long, however, the time does not drag. There is a lot of action that is quick moving. The music is beautiful and the actors have a sense of timing that belies the fact that this show is just starting out.
The first setting is the Union Square area of New York City at Table, a restaurant once called the 'most beautiful room in New York' in a review. Located right across the street from a green farmer's market, Table is in business 20 years. Chef David cooks and his wife, Claire, works the front of the house. The couple has two children, Kate and Bix, both of whom help out in the restaurant after school.
We learn about the warm atmosphere that Table provides to its customers right at the start of the show. This family owned business shares its warmth with their customers and that is what makes it special. Such a restaurant would be a joy to go to except for the occasional spats between David and Claire when she tries to update the menu. All in all, things go along pretty well until the new lease arrives with a hefty monthly increase. The increase is more than Table can bring in.
Looking for a solution, David approaches his former business partner, Sergio. Sergio is a hot shot icon of the food world. He no longer cooks preferring to spend his time doing television shows, promoting his books and products, and generally just making a lot of money; a whole lot of money. David tells him of his need for revenue and offers him a chance to buy back his share of the restaurant. Without hesitation, Sergio accepts.
Now to tell why he accepts so readily would ruin the show for anyone coming to see it. But here's a hint: it has something to do with Claire. And as he and Claire get reacquainted, Sergio manages to throw her life into turmoil as she realizes she is not happy with her life in the restaurant resulting in conflict for many of the characters and situations.
A subplot is set at the Anarchist Pizzeria in Bensonhurst, Brooklyn. Owner Carlo is set in his ways but his daughter Anna is looking to include new technology in her life. She meets Bix and they fall in love and discover they both share an interest in having their own modern version of a restaurant. The children set a new path for their parents and the restaurants involved. But in the end, the love of family comes back through as the ensemble gathers to share a meal.
Throughout the show is music that is beautiful to listen to. There is a nice range of variety including a few songs that have a jazz sound as well as more traditional melodies. Some of the highlights of the musical numbers include:
 "Something's Growing" – This opening song is subtle in tone as it projects the feeling of early morning. It is an ensemble song that gives insight to what the show is about and changes and growth people go through.
"Market Forces" – Phoebe does a wonderful job singing this song to describe aspects of the food business.
"Expresso!" –  Carlo sings this song as a solo. The title signifies the purpose of the song where he can express his thoughts on life and how different is it today from his past. It is humorous and gives nice insight into the character.
"Doo Wop Motel" –  New Jersey's seashore town Wildwood is described as Sergio expresses his unrequited love for Claire. This ballad is beautifully sung by Sergio and Claire and the city of Wildwood should consider adopting it this summer!
"What's Not to Love" – This song closes Act I as Sergio and his sidekicks Natasha and Irwin glorify the changes he will bring to Table. It works well as a song that is both funny and a sign of things to come.
"And Then I'll Go" – This is a bittersweet and heart tugging ballad sung by Claire and Sergio. A surprising side of both characters emerges.
"I See Claire/I Hear David – This ballad is cleverly staged as the couple sing of their love for each other. Pure emotion pours through from both of them.
"Our Table" – Closes the show with a celebration of life and family.
Good casting and fine performances are an important part of The Most Beautiful Room in New York. The leads include Matt Bogart (David), Anastaastia Barzee (Claire), and Constantine Maroulis (Sergio). Also cast are Sawyer Niehaus (Kate), Tyler Jones (Bix), Krystina Alabado (Anna) and Mark Nelson (Carlo). From the green market are Darlesia Cearcy (Phoebe), Danielle Ferland (Gloria), and Ryan Duncan (Gio). Playing dual roles are Anna Horak (Natasha/Franca) and Allan Washington (Irwin/Gabe) who also is the Dance Captain.
Musical Staging is by John Carrafa with Orchestration by Jonathan Tunick.  Serving as Music Director is John McDaniel.
It will be interesting to see where this show goes from here. But for now, The Most Beautiful Room in New York is good, light hearten entertainment. It is a family oriented show (teenagers and up). That along with good music, an enjoyable story line, and a talented cast makes it a good show to see.
About the Show:
Running Time: Approximately 2 hours, 20 minutes plus an intermission
Location: Long Wharf Theatre, 222 Sargent Drive New Haven, CT
Performances: Now through May 28, 2017, Tuesdays – Sundays
Contact for Info and Tickets: Call the Long Wharf Theatre Box Office: (203) 787-4282 or online https://www.longwharf.org
P.S.
As I did last year, I'll be out on the road to see a few shows. This was the first and for me, well worth the drive up to New Haven.
Next stop is the Bucks County Playhouse to see Clue. Stay tuned!