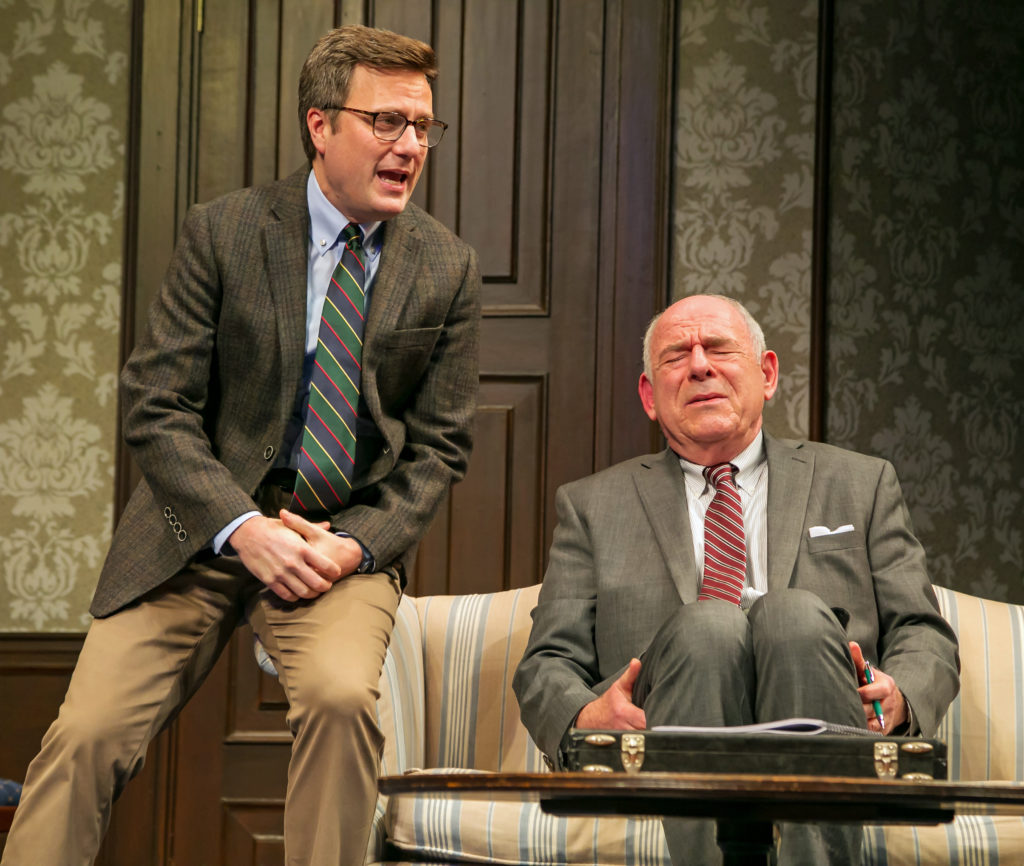 There's no doubt about it, The Outsider is one of the funniest shows you will see this year. Playing now through Feb. 18th at the Paper Mill Playhouse, this comedy is all about politics and the people who are a part of it. Written by David Slade Smith in 2015, the atmosphere of politics was not as rowdy as it is right now. After the events of the past few years, The Outsider gives audiences a chance to laugh at a fictitious depiction of someone who is thrust into office but does not want to be there. It is a very well-done production with a funny, yet rewarding story line and an excellent cast.
Under the very competent direction of David Esbjornson, the play begins right after a swearing in ceremony for governor.  The Lieutenant Governor, Ned Newley, takes office after a resignation by the current governor due to misconduct with a beauty pageant contestant. Ned feels he not suited for the job.  He is an idea man and hard worker behind the scenes. But he is nervous facing cameras and crowds. Newley's Chief of Staff, Dave Riley, is concerned about a special election. He thinks Ned's reluctance to go on camera or speak to crowds hinders his chances of winning. Enter Paige Caldwell who is a zealous pollster to help out. Dave also needs some staff as there is no one working in the governor's office. So he brings in a temp, Louise Peakes and the fun begins. Louise has no idea how to answer phones, type, or do any other office tasks. She also has no recognition of her lack of skills. She only lasts a day at every job she has. When you watch her trying to do something, you will see why.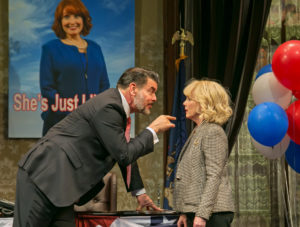 Unexpectedly, Arthur Vance, a high level political consultant who is on CNN every election night arrives. He is determined to find the "worst person in politics." He believes he has struck gold with Ned Newly. He sets out to get Ned ready for the special election and works with Paige. When tv reporter Rachel Parsons conducts Ned's first interview as governor, Vance preps him with sound bites on cards. But an even funnier thing happens during the interview which changes everything. It can be said that things look rather bad at that point. However, a very satisfying conclusion is reached at least for Ned Newly. Suffice it to say Louise (Lulu) also gets an amazing ending finally landing a job. Let's just leave it at that. You will laugh when you hear what it is.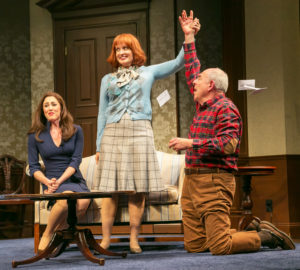 Playwright Paul Slade Smith  incorporates loads of humor into the story.  On Opening Night, the audience laughed continuously. Dialogue is crisp with satire and double meanings to the words which keeps the pace of the show moving along. There are no lull moments; this show runs nearly two hours and it is two hours of laughs.
Casting includes Lenny Wolpe who does a wonderful job playing Ned Newley. Wolpe is expressive without words when showing how nervous Ned starts out, but very eloquent when the real man inside finally emerges. Erin Noel Grennan nearly steals the show as Louise Peaks. Her dry humor approach to her character who is so inept at everything keeps the audience in stitches. Julia Duffy brings the right tone to pollster Paige Caldwell as she calculates how low Newley's ratings are with the public. Burke Moses is a totally believable political consultant. His swagger and precise delivery of what is really happening as Arthur Vance are quite convincing. Manoel Feliciano plays Dave Riley with a quiet concern for his boss, the new governor. And to his credit, his continual belief in the man finally shows through in the end. Kelley Curran plays television reporter Rachel Parsons who gets the scoop of the year during her interview with Ned and Louise but wisely shows a reporter with some scruples. Mike Houston rounds out the cast as A.C. Petersen, the member of television film crew who says very little but makes it count when he does.
Additional Information for 'The outsider'
Running Time: 2 hours plus one 15 minute intermission
Location: The Paper Mill Playhouse, 22 Brookside Drive, Millburn, NJ
Performances: The Outsider will be performed eight times a week, Wednesday through Sunday. The performance schedule is Wednesday at 7:30 p.m., Thursday at 1:30 p.m. & 7:30 p.m., Friday at 8:00 p.m., Saturday at 1:30 p.m. & 8:00 p.m. and Sunday at 1:30 p.m. & 7:00 p.m.
Contact for Info and Tickets: Tickets and additional information are available at Paper Mill Playhouse Box Office at 22 Brookside Drive in Millburn, or online at www.PaperMill.org.
Suggested Audience: Suitable for all, especially people who like to laugh.
For information on special performances, check this article about the show.