.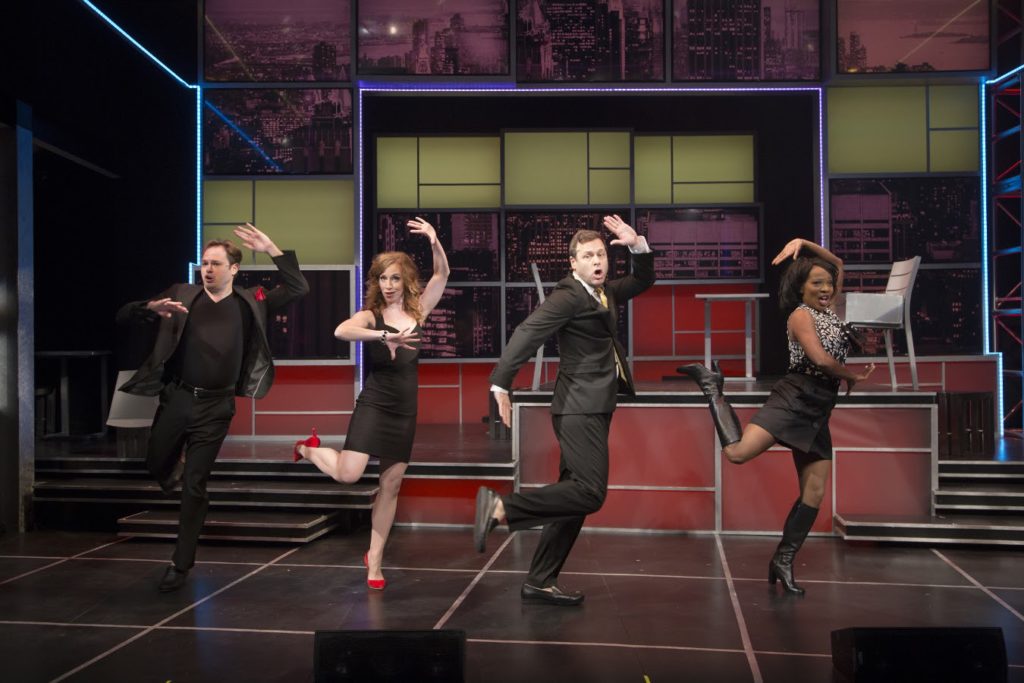 The start of the 2017 – 2018 season for The George Street Playhouse marks a major change for the New Brunswick theater. The theater moved to an interim location a few miles out of town while a new center is under construction on the old site. This could present problems for some. But thanks to some excellent planning and a lot of hard work, all is in good running order. The new location is spacious and comfortable, parking is plentiful, and a marvelous show, I Love You, You're Perfect, Now Change is on the bill. All is well. Actually, all is very well at the George Street Playhouse!
Directing I Love You, You're Perfect, Now Change is David Saint who is entering his 21st season as George Street Playhouse's Artistic Director. His work with this show demonstrates how some changes and updates can give a fresh, contemporary look to a classic. I Love You, You're Perfect, Now Change was a record breaking off-Broadway hit show. Written by Joe DiPietro with music by Jimmy Roberts, it ran for nearly 11 years.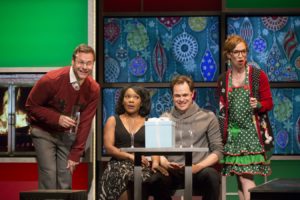 The show is a series of vignettes that features songs about dating, romance, lovers, husbands, wives, and in-laws. It flows nicely through first meetings and all the turmoil involved with first dates and falling in love. It moves to scenes about marriage and eventually losing a spouse. This portrayal of the cycles of loving relationships includes references to more modern nuances. Expressions such as Tinder Profiles and texting update the original.
The cast includes four people: Karen Burthwright, Lindsay Nicole Chambers, Mitchell Javis, and George Merrick. They all do a fine of singing individual songs, duets, and full company numbers.
The show has a number of scenes, each of which corresponds to an aspect of love and relationships. One scene about dating is called "Not Tonight, I'm Busy, Busy, Busy." The song for that scene is "Better Things to Do Than You." As the show moves to marriage, the scene is titled "Sex and the Married Couple" with a very clever song " Marriage Tango."
This is a good show to see if you want to be entertained without looking for a deep message or meaning. It makes its points gently and at times with humor but always with well written songs and good singing.  You'll be able to relate to most if not all of it because it is about the most basic instinct we have: love.
About the Show
Running Time: 2 hours (approx.) with a 15-minute intermission
Location: George Street Playhouse, 103 College Farm Road on Rutgers University's Cook Campus
Performances: Show runs until November 12, 2017
Contact for Info and Tickets: Tickets range in price from just $15 for students (with valid ID) to $79, based on performance. Visit the new website which allows patrons to select their own seating locations when ordering tickets online.
Suggested Audience: People who enjoy musicals will love this!
New Interim Location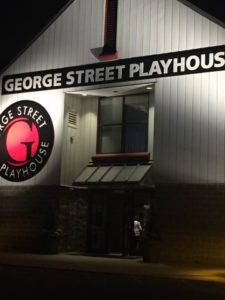 I Love You, You're Perfect, Now Change performs onstage in the new, interim theater. Located at at 103 College Farm Road on Rutgers University's Cook, the new location is the former site of the New Jersey Museum of Agriculture.  George Street Playhouse plans to use the interim site through the 2018-19 season.
The building is a nice size to house the Playhouse's offices, storage areas, and equipment needed to run a show. There is a spacious lobby area where the box office and rest rooms are located. The traditional room for before show seating where refreshments are sold is also available.
A former museum exhibit area is now an intimate, main stage theater space. It is evident to see that a lot of work went into transforming this space.The theater itself has an open feel to it. The seating is comfortable and there is plenty of leg room. There are large sliding doors that open on one side of the seating area to lead out to a patio. Sound systems and lighting were excellent.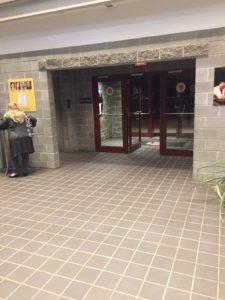 Theater goers can enjoy free parking close to the theater and the entrance way is flat making handicap accessibility very easy.
Work is underway for a new home for George Street Playhouse in downtown New Brunswick. A new performing arts center is being built on Livingston Avenue where the Playhouse has resided for many years. George Street Playhouse expects to return downtown to the New Brunswick Performing Arts Center in time for its 2019-20 season.