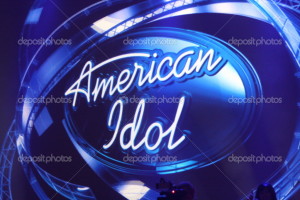 The television series "American Idol" closes down after what promises to be a memorable Finale, tonight, April 7. The last winner to be crowned will be either La'Porsha Renae or Trent Harmon in what the judges last night called the contest one that should be the closest in American Idol history. Not sure why they said that or how we will know, but from a television point of view, it sounded good.
On Tuesday night, a retrospective called "American Idol: American Dream" gave a look at how the show began and developed over its 15-year run. It was evident from viewing the 90-minute production that this was a ground breaking show that has reflected the changing culture of America. There were some good points made about how technology has influenced the way the show has changed over the years. The look at how the music industry itself has changed was interesting to see. Hard to believe, but when the show began in 2002, iTunes was barely a year old. "American Idol" began June, 2002, and that very next month, the Apple Corporation announced their second generation of iPod that would hold up to 4,000 songs. They also reported that 600,000 iPods had been sold through 2002.
Also included in the Tuesday show was commentary from some of the most successful contestants who have either won the title of the American Idol for their year or come very close. Names like Kelly Clarkson, Carrie Underwood, Adam Lambert, Chris Daughtry, and Jennifer Hudson have become household names and they were on to explain what the show did for them. As nice as this was, Idol missed the boat by not showing how well other contestants not in the heaviest selling recording ranks have done. And there are many especially those who have gone to do work in the theater. In the past, "American Idol" has not been a big supporter of that genre although in their promotional materials for this ending session, they did mention it. Maybe it started way back when judge Simon Cowell described a contestant as "too Broadway" and said it in a way that was meant to be not in favorable light. Season Two contestant Clay Aiken had that laid on him on night. Aiken did go on to have a nice career in pop music and eventually came to Broadway in "Spamalot." But its highly unlikely he had that goal in mind at the time he was going for the win.
Judge Randy Jackson was dismissive of an audition when a Broadway song was sung. He said that show tunes turned him off because of the vibrato it brought out. However, this year at auditions, Dalton Rapattoni sang a unique version of "The Phantom of the Opera" to the high praise of the current judges. Maybe having Harry Connick Jr. as a judge gave more credence to theater since Connick himself has done Broadway shows.
There is quite a list of former American Idol Finalists who have gone on to Broadway other than the ones shown on the Tuesday night show such as Fantasia. The list includes Tamara Gray, Diana DeGarmo, Constantine Maroulis, Ace Young, and LaKeisha Jones. Read more about that here on Examiner. There are others who have done work Off-Broadway and large National Tours including Anwar Robinson, Anthony Federoff, and Syesha Mercado.
As the curtain comes down tonight on one of the most successful shows in television history, there will be a new group of Finalists added to the current list. Who knows which ones we will see in the theater. If they are as good as the ones who have already been there, then we are in for some good shows.