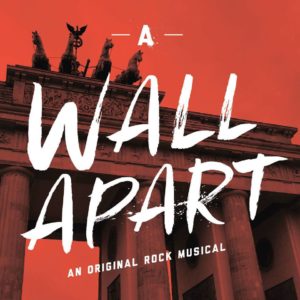 A new show about the Berlin Wall debuted a few weeks ago at the 2017 New York Musical Festival.  A Wall Apart is the story of how the Berlin Wall affected the lives of an East German family, their spouses, and friends for nearly 30 years. Although it has been gone since 1989, the Berlin Wall stood solidly in place for years as a reminder of a government that had to fence its people in to keep them from leaving. This show provides a look back at that time and some situations and emotions that would have been a part of living behind the Wall.
With a book by Sam Goldstein and Craig Clyde, A Wall Apart begins as the Wall is being built.  People were able the cross over the border separating the east from the west. Family member Hans is a guard on the border. He does his best to keep his job to provide for his two younger brothers, Kurt and Mickey, and another family member, Tante. The story includes information about the family's survival and losses during World War II. This information is important because it explains why Hans works as a guard despite the fact that he is not truly pleased with the direction life is headed.
Mickey is a singer with a rock band in a club in West Berlin. His devotion to the ideals of freedom is evident. His love for Suzanne leads to marriage and the birth of a son. The more complicated brother is Kurt who enjoys visiting the club where Mickey sings but eventually agrees to accept a position as a guard with his brother Hans. He meets Esther who lives in the western side of the city. As they fall in love, his life becomes split between loyalty to his family and his desire to be with Esther.
One dreadful day in 1961, the borders closed. The freedom to go to either side disappears. As someone who grew up during that time, that moment in the show was very emotional to watch. We would hear stories of families who had been left on one side or the other and were not able to get back together. One could barely imagine the sadness people were going through on either the eastern or western side. A Wall Apart tells stories of escape attempts, meetings at the Wall, and the frustrations people were feeling about not having their freedom to do and see who they pleased.
The music and lyrics are by Lord Graham Russell with direction and arrangement by Jonathan Ivie. The score features a rock sound. It has the right mix of strong, kicking sounds and several ballads that are beautiful.  Mickey and Suzanne sing "Do You Mind if I Adore You" when they marry. At the same event, Kurt and Esther sing the very touching "I Want To Be in Love With You." We meet the next generation as Mickey Jr. sings the outstanding "Son of the Father."
From a historical point of view, the Berlin Wall became more of a fact than a news story. Then came that miraculous night in 1989 when the first cracks were made and the Wall began to come down. That part of the show is marvelous. The audience went with the triumph that the cast and band/orchestra provided on stage. There was a feeling of unification and we all felt like we were citizens of Berlin. The closing song is powerful and full of hope just like that night in 1989 was.
With direction and choreography by Keith Andrews, a very fine cast brings the story and music together. The cast includes Maddie Shea Baldwin (Esther), Leslie Becker (Tante), Emily Behny (Suzanne), Jordan Bondurant (Kurt), Darren Ritchie (Hans), Matt Rosell (Les Misérables), Josh Tolle (Mickey), and Matt Rosell (Mickey Jr.).
Ensemble members include Mili Diaz, Jamal Christopher Douglas, Amanda Downey, Lindsay Estelle Dunn, Sean Green, Jr., Emily Kristen Morris, and Vincent Ortega.
Final Thoughts
The mission of the New York Musical Festival is "to provide an effective platform to introduce new shows, new perspectives, and new blood into the musical theater canon." This platform gives new shows a chance to come out of the workshop phase and present to a live audience.   A Wall Apart may consider doing some more development and fine tuning.  However, there are so many fine aspects to this show that it should continue on.  A story of the Berlin Wall needs to be told so that people can remember what a political system that ranks party above people is like and what it can do.