There are times when one sees a play so well put together that you say to yourself "now that's how it should be done."  A Day by the Sea by N.C. Hunter is one of those plays. The production now running in New York City is presented by the Mint Theater Company and directed by Austin Pendleton. It marks the Mint's first production as a resident theater company at Theatre Row and it is a perfect spot to see this show.  A Day by the Sea flows beautifully and keeps the audience interested throughout the entire production.  A main plot and several subplots develop through the two hours and 40 minutes of the three acts. The plots are not really intertwined, but they run quite seamlessly beside each other.
Upon entering the theater, the set for Act I, the garden of Laura Anson's home in Dorset, is on display.  Lovely soft piano music especially written for this show plays in the background and the occasional sound of seagull can be heard. It creates a very relaxing feeling and reminds one that the home is close to the English seaside. With the very warm August weather, such a setting was a welcome relief to the heat outside the Beckett.
The main plot for A Day by the Sea centers on Julian Anson, a once promising Foreign Service employee, who has allowed his career to become the center of his life.  These days we might call such a man a "workaholic" but by many, he was revered as trying to make a name for himself and establish a brilliant record of service.  His mother, Laura, has tried to encourage him to have a life outside of work. But Julian persevered in his career landing himself in a plum position in Paris. This visit to the seaside is one of the few times that he has allowed himself some sort of break.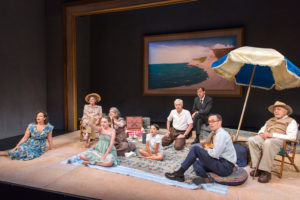 Julian is middle aged, somewhere in his 40's, not married, and not concerned about having a life until his work supervisor comes to visit him. The news the man brings is life changing for Julian. Next, he learns that another guest at the house, Frances, has kept a secret that involved him for many years. His decision to confront this situation sets the second part of the play in motion.
Along with Julian's dilemma, there are also subplots involving other members of the household including the governess Miss Mathieson and her attraction to the alcoholic Doctor Farley, the declining health of David, and the needs of Laura to maintain order all around.
Sounds confusing? It's not. All of these plots and subplots play out quite easily and very nicely due to Playwright Hunter's skillful creation of dialog and progression of the story line. Some situations are resolved and others show hints but not resolutions.
So, in the grand scheme of life, events like these become a part of life and definitely a reason one needs a day by the sea.
Fine performances are given from a cast that features Curzon Dobell, Julian Elfer, Katie Firth, Philip Goodwin, Sean Gormley, Polly McKie, Kylie McVey, George Morfogen, Athan Sporek, and Jill Tanner.
For theater goers who can't get enough of well written shows, this is a must see.
About the Show:
Running Time: The play is in three acts which gives the entire play a run time 140 minutes plus two intermissions.
Artistic Staff:  Scenic design by Charles Morgan; costume design by Martha Hally; lighting design by Xavier Pierce; and sound design by Jane Shaw.
Location: Main Stage: The Beckett Theatre at Theatre Row, 410 West 42nd Street between 9th and Dyer Avenues, New York City.
Performances:  A Day by the Sea is currently running through September 24, 2016.  Performances are on Tuesday through Saturday evenings at 7:30pm with matinees Saturday and Sunday at 2:30pm. Special Wednesday Matinees on August 24th at September 21st at 2:30 PM.
Contact for Info and Tickets: For more information, visit minttheater.org. Tickets for all performances are $57.50 (including $2.25 theater restoration fee) and can be purchased online at Telecharge.com, by phone at 212-239-6200 or in person at the Theatre Row Box Office.