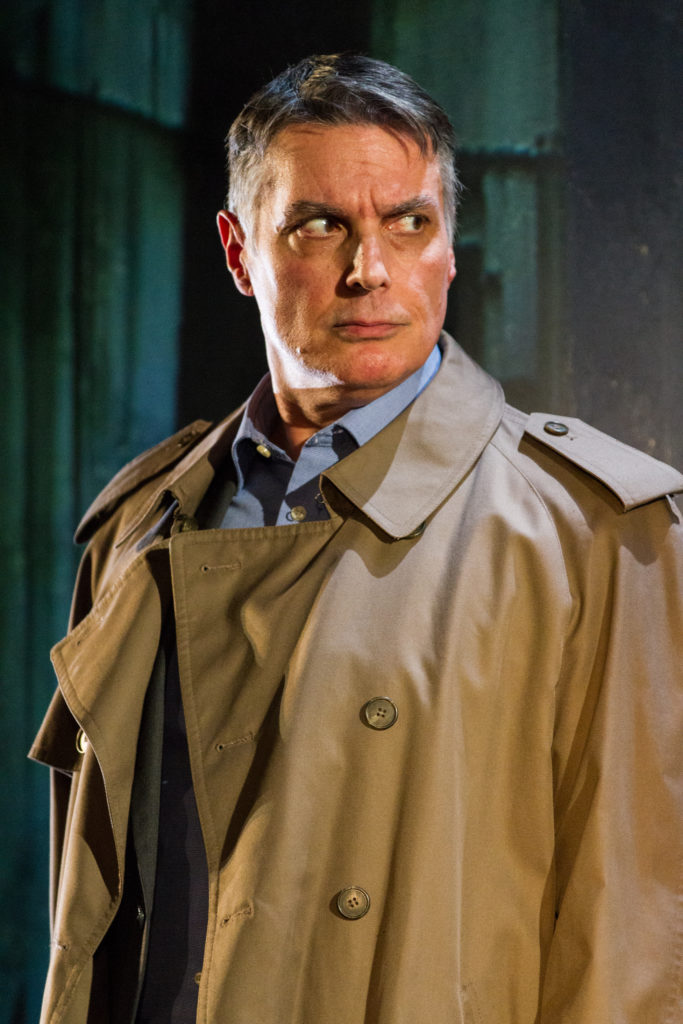 A Review of "White Guy on the Bus"
WHITE GUY ON THE BUS  is a play that examines several aspects of how races regard each other in America. Written by playwright Bruce Graham, this production is directed by Bud Martin and produced by Delaware Theatre Company. The show will run at 59E59 Theaters until Sunday, April 16.
The play opens with Ralph, a wealthy white business man, standing alone onstage. He is introduced as a numbers man as stock symbols and daily market activity swirls on a strongly lighted stage covering the character and everything around him. The fact that he is a numbers person is mentioned several times throughout the play as if to solidify the idea that he is a stable, sensible man. This is a man who would carefully assess any situation to come up with the right moves. His character does that continuously through the play but with different stakes each time. What he ends up doing with power and money might be looked upon as so wrong; yet he calmly justifies it.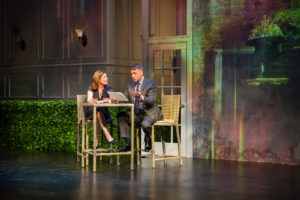 As the lighting changes, a setting in an outdoor home garden on the left side of the stage becomes the site of action where Ralph and his wife, Roz, meet to discuss their day. She is a longtime, very dedicated school teacher in a poor, ghetto school in a black section of Philadelphia where she is the only white teacher. Ralph wants to retire, sell their lovely home in the safe suburbs and maybe become an artist. Roz is not ready for that kind of life. She has plans to never stop doing the work she does because she loves what she does. Ralph is supportive of her and wants to come to an event where she might become Teacher of the Year. But she does not allow it and sets out on her own as he goes back to his lucrative business.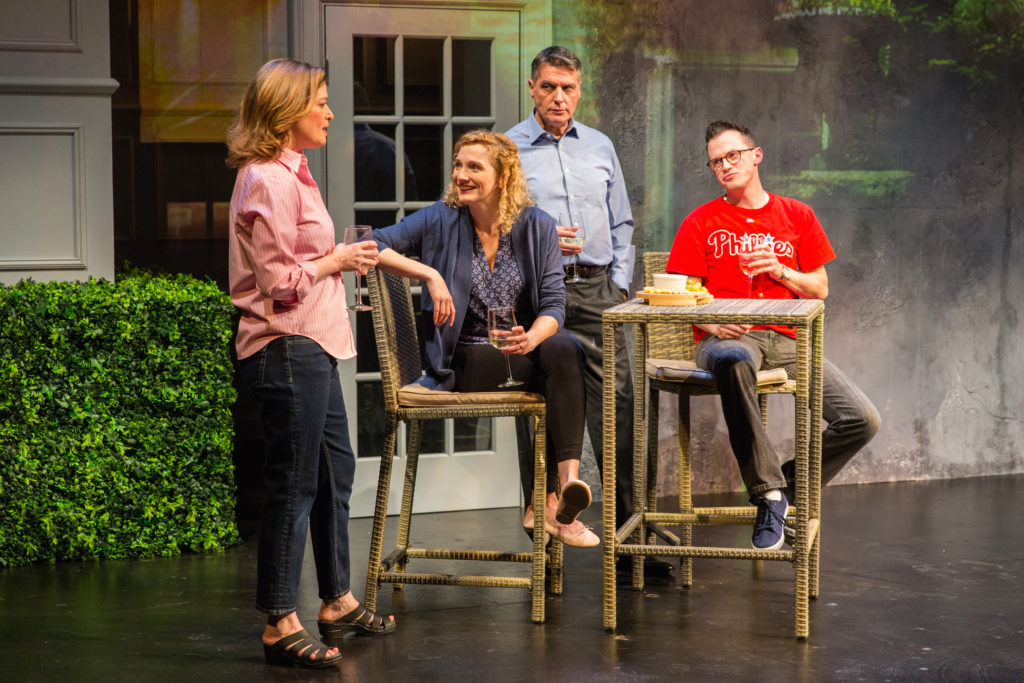 Next entering the garden is Christopher and his soon to become wife, Molly. Christopher has taken after Roz with wanting to teach but he is aiming at the college level. He is in process with his dissertation which is intent on examining how blacks are being recruited for commercials through advertising agencies. He is enthusiastic about his work and feels he is on the right track to expose injustices. The four have a lively discussion where Roz talks about her work with her students. She is a crusader in the fight for quality education for her students and Molly's questions and remarks to her are fascinating to listen to. What we start to see emerging here is a lack of understanding of what different classes in society deal with. Although Roz tries to explain her points, she comes across somewhat as a do-gooder and Molly comes through as an outsider causing tension between the two.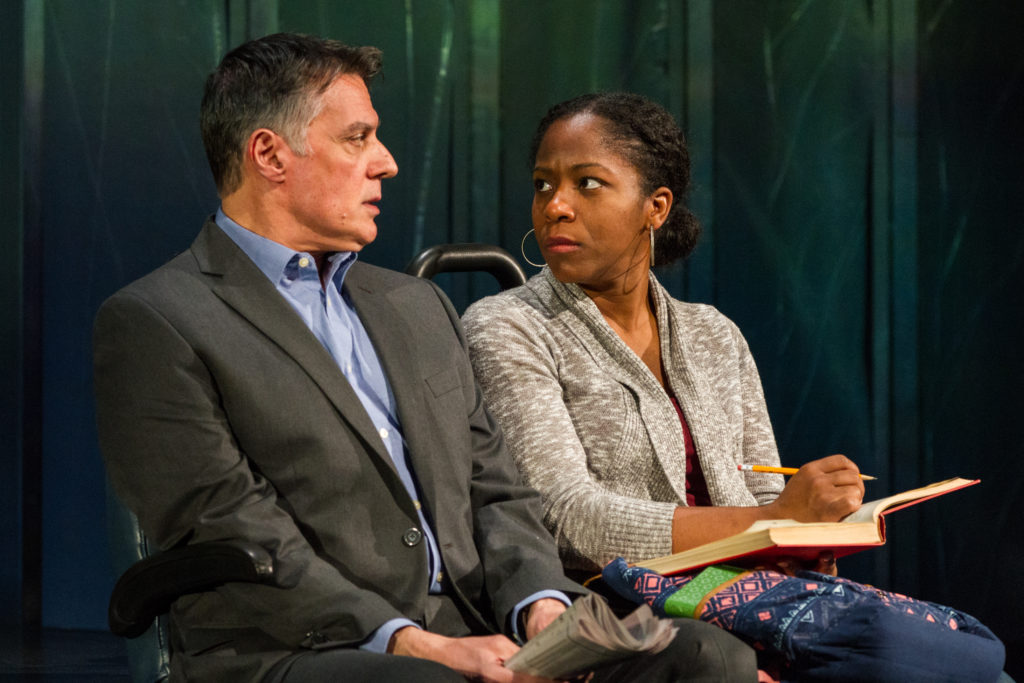 Finally, the right side of the stage gets used as Ralph enters a bus and takes a seat next to a black woman, Shatique, who is dressed in hospital scrubs with books opened on her lap. They begin a conversation that moves along through several different scenes. Even before Shatique asks Ralph  why is taking public transportation, an astute playgoer will be wondering the same thing. And that becomes the key to why the white guy is on the bus and the unfolding of the entire story.
To tell that part of the plot would not be right for anyone going to see this play because it is intense when it unfolds. Suffice it to say that the character Ralph takes matters into his own hands and tries to get justice for something terrible that has happened. Shatique becomes one of the victims in the workout of his plan. Playwright Graham has constructed a story that not only brings out racial divides but also how money can be such a powerful force, that it crosses color lines. This is not a play about using money for uniting the races, it is a character study of how each regards the other but in the end, money for these characters wins out.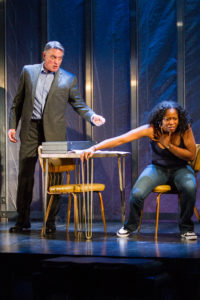 Robert Cuccioli stars as Ralph. Mr. Cuccioli sets this play on fire with his powerful acting. He easily moves between the good and bad aspects of the character's personality showing the audience how it is all possible. Danielle Leneé plays Shatique, who is a mother of a son she only gets to see once a week. She has dreams of eventually buying a house in a new neighborhood. Ms. Leneé does a remarkable job of showing both sides of this character who struggles with what is eventually offered to her. The scenes with these two characters are the most intense in the show.
Some strong dialog that brings out problems between the races is between Roz, played by Susan McKey and Molly, played by Jessica Bedford. McKey does a fine job creating a character who is strong and believable but at times a bit hard to take as she tangles with  Molly. Bedford tackles a difficult role very well as Molly who starts out striving to be hip with the thinking of today, but eventually falls back to what she knows is comfortable when she is expecting a child. The evolution of Christopher is well delivered by Jonathan Silver. We see him deal with his own discrimination situation and then easily move out of the field of education into his Ralph's world of finance and big money.
Dealing with racial and class issues that are presented in WHITE GUY ON THE BUS is not easy to do. If you are looking for a light evening of theater, this might not be the right pick. However, the value it brings to the stage, especially at this time in history, makes it well worth going to see. Plan on going out for a cocktail or dessert afterwards because you will have a great deal to discuss.
About the Show:
Running Time: 1 hr. 50 minutes with a 15-minute intermission
Location: 59E59 Theaters (59 East 59th Street, between Park and Madison Avenues), New York City
Performances: Tuesday – Thursday at 7 PM; Friday at 8 PM; Saturday at 2 PM & 8 PM; and Sunday at 3 PM through Sunday, April 16.
Contact for Info and Tickets: Call Ticket Central at (212) 279-4200 or visit www.59e59.org.
*theatervisit