Now playing through September 30, 2017 is the Mint Theater's production of The Suitcase Under the Bed.   The program consists of four short plays written by Teresa Deevy. The careful consideration given by Mint Theater to this program provides a remarkable evening of theater for those who come to see it. Perhaps the best way to summarize the success of this production is in the words of the playwright herself who said "suspense, surprise, inevitable this," is what play should contain. That is true of all four of these plays.
This production is highly recommended for those who enjoy well written, well-acted plays with unique storytelling.  There are touching emotional moments scattered throughout which keep audiences watching and wondering.
Background
The Teresa Deevy Project began in 2009. Jonathan Banks, Mint Theater Company's Artistic Director, went on a search to find out about Ireland's women playwrights. He came across Deevy's name on a list as someone who had six plays produced at the Abbey, Ireland's National Theatre between 1930 – 1936.  He was only able to find information about one of them. So he began a search of her work.
Banks' search led him to the Deevy family home in Waterford, Ireland. Banks says, "There, in two suitcases stuffed under a bed was a treasure trove of typescripts." Thus the title of program, The Suitcase Under the Bed, was born. This program is a continuation of the Teresa Deevy Project which kicked off in 2010, when the Mint Theater re-introduced the writer to the world with their acclaimed production of the play Wife to James Whelan.  Produced in 2011 was Temporal Powers  and Katie Roche in 2013.
In 2012, Mint published all three of these plays in Teresa Deevy Reclaimed Volume One which has been distributed free of charge to Irish Studies Departments at Colleges and Universities across the U.S. Volume Two of Teresa Deevy Reclaimed is now available, containing nine short plays, collected in one book for the first time ever. Together, these two books will have a significant impact on Deevy scholarship for years to come.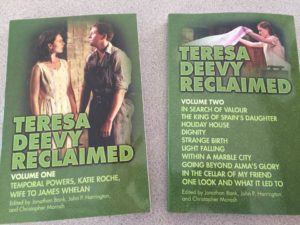 Both of these books are on sale at performances of The Suitcase Under the Bed and online at the Mint Theater Company website. These would make great gifts to someone who enjoys good plays. Additionally, English teachers would do well to check out this series for potential inclusion in future curriculum.
The Four Plays
There are four short plays that make up The Suitcase Under the Bed. They are "Strange Birth," "In the Cellar of My Friend," "Holiday House," and "King of Spain's Daughter."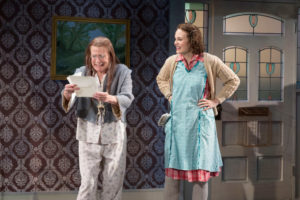 "Strange Birth" – This is a very sweet tale about love. It all takes place in the entrance hallway of a home where the mail is delivered. A letter arrives and it provides a sweet respite out of the chores for the housekeeper. This play is one of the shortest on the program but it shows three different situations dealing with love and two very happy endings.
"In the Cellar of My Friend"  – A woman thinks the man she loves is preparing to propose marriage to her. She is delightfully happy as the morning begins thinking about what he said the night before. However, a twist that is very surprising occurs and the outcome is a good example of how someone can land on their feet.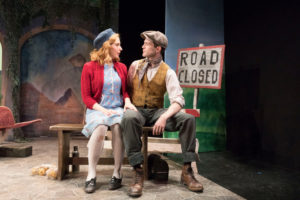 "Holiday House" – This short play is funny and introspective and loaded with bits of sarcasm written in. It is a joy to listen to the dialog as this story unfolds. Additionally, the acting antics of the characters adds richness to what takes place.
"King of Spain's Daughter" – This selection was a successful venture in Dublin, Ireland. It shows the struggle a nontraditional Irish woman experienced during that time period. It is a little rough in parts that deal with the young woman and her father. However, the budding relationship between her and her suitor show potential.
Some beautiful Irish folk music plays as you enter the theater and at intermission to help set the mood. The sets are designed to allow easy changes as the program progresses.
Jonathan Banks directs this production. The cast includes Ellen Adair, Gina Costigan, Sarah Nicole Deaver, Cynthia Mace, Aidan Redmond, Colin Ryan, and A.J. Shively.  The cast does a remarkable job. They play many different characters in different settings throughout the course of the program. Bravo and brava for a job well done!
About the Show
Glad to say this show runs at the Beckett Theatre in Theatre Row, 410 W. 42nd Street in New York City, for the rest of this month. The run extends to Sept. 30, 2017 which still gives time to come to see it.
For more information about the show or tickets, go to the Mint Theater Company website online or purchase at the Theatre Row Box Office.
Run time is approximately 2 hours with one 15 minute intermission.