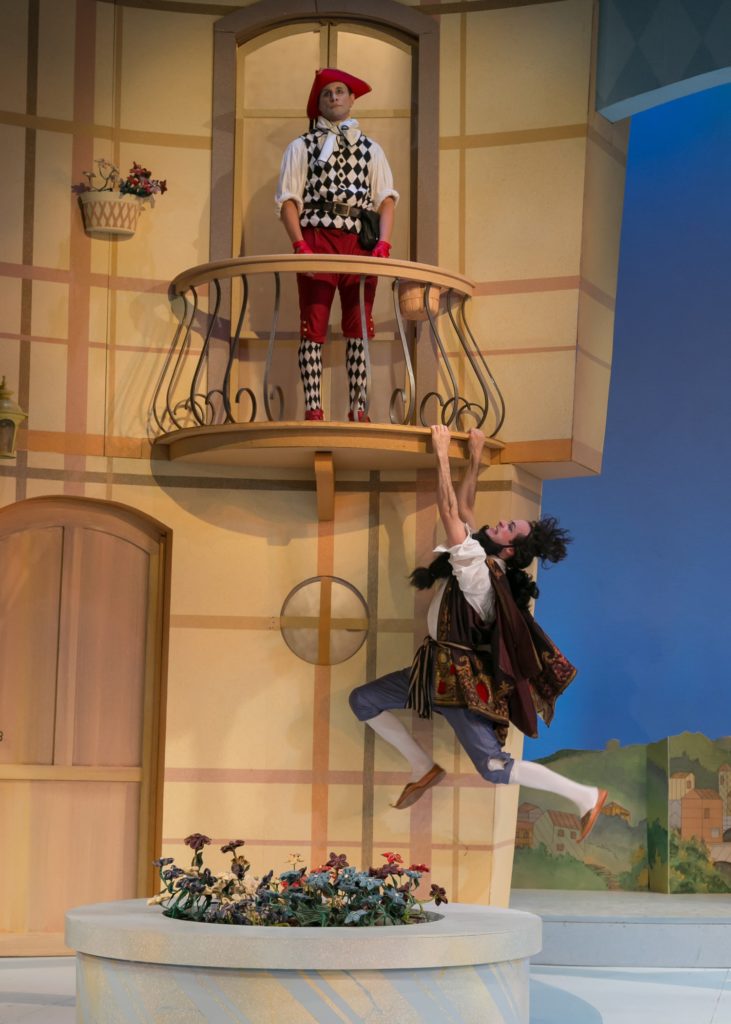 The Shakespeare Theatre of New Jersey is featuring a rarely seen comedy on their Main Stage in Madison, NJ. Written by Molière and translated by Richard Wilbur, The Bungler was first performed around 1655. It was Molière's first full length play. It provides an early look at the playwright's talent for comedy and it is very funny. The plot lends itself to misunderstandings and characters who are designed to make and add to those misunderstandings.
Directed by Brian B. Crowe, The Bungler centers around Lélie and his attempts to woe and win the woman of his dreams, Célie. Lélie is aided in his attempts by his very faithful valet, Mascarille, who also is the brains behind the operation. However, every time he thinks he has come up with a way for Lélie to succeed in his quest, Lélie himself does something to foil the plan. Lélie is the bungler because of all the crazy things he does to undo and upset the strategies Mascarille attempts. At one point, Lélie himself thinks he has come up with the best solution only to find that it again foils a plan. There are other characters in the story watching these actions take place. Additionally, there is a rival that Lélie has to overcome and those situations end up in foiled attempts with plots gone wrong as well.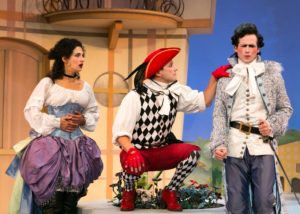 The story line is comical and a real strength of this production lies in the actors' performances. Aaron McDaniel plays Lélie and Kevin Isola plays the long suffering valet Mascarille.  These two steal the show with their little quirky mannerisms and remarkable delivery of their lines. After the first several bungles occur, as soon as you see one or the other, you just know something funny is going to occur. Sophia Blum is a breathtaking Célie and Trufaldin, her owner, is patiently but wily played by Eric Hoffman.
Other members of the company for this show include James Michael Reilly, Drew Dix, Devin Comway, Sam Ashdown, Danilo Ottaviani, Tommy Bowden, Isabel Lagana, and Jack LeGoff.
It is interesting to look back at a play created in the 1600's to see the dress and thinking that prevailed. The costumes and make up for this show are what we might call "over the top" but they are excellent additions to the romps that take place.
Perhaps the way to summarize what this show is about is quote Director Brian B. Crowe who said,
The Bungler is like a delicious sorbet on a hot summer day; sweet, refreshing and an ideal treat. Molière's brilliant wit, colorful characters, and unexpected twists – not to mention the delightful costumes and sets from this stellar design team – are sure to inspire giddy laughter for people of all ages.
About the Show
Running Time: Over two hours with one 15 minute intermission
Location: The F.M. Kirby Shakespeare Theatre of New Jersey, on the campus of Drew University, 36 Madison Avenue, Madison, NJ
Performances: Tuesdays – Sundays through July 30, 2017
Contact for Info and Tickets: Call the Box Office at 973-408-5600 or go online at www.ShakespeareNJ.org.
Suggested Audience:  Those who enjoy comedies from early teens and up