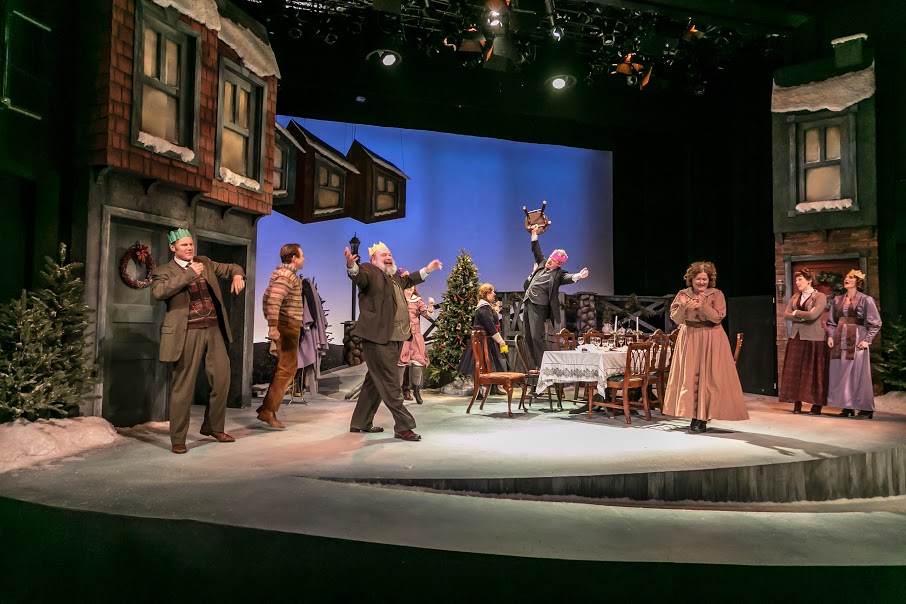 When all the preparations are done for the holiday season, it's time to enjoy all that comes along with this glorious time of year. If theater is your pleasure of choice, a good choice is to go see A Child's Christmas in Wales which is currently running at the Shakespeare Theatre of New Jersey.  The production is based on the classic story by Welsh poet Dylan Thomas and adapted for the stage by Jeremy Brooks and Adrian Mitchell. It has a story line that is timeless and classic. It incorporates music and singing along with colorful, humorous dialog.
This festive show is being revived for the first time since it last appeared on the Shakespeare Theatre New Jersey stage in 2003.  While attending a talk back with Director Joseph Discher and cast after the Dec. 5 performance, questions were asked if this was the same show as presented back then. Discher said it basically was but there have been a few changes made. Also, the addition of new actors gives the show a fresh, new look.
A Child's Christmas in Wales is a composite account of Dylan Thomas' childhood holidays in Wales in the early 1900s. It features Greg Jackson as Dylan Thomas who lives with his mother and father in a simple but comfortable home. Jackson does an incredible job moving between the roles of grown up narrator and the child he once was. His transformation into young Thomas is so well done it allows the audience to imagine a child onstage even though he is an adult still dressed in the costume of the narrator. We see him become excited as Christmas morning opens with his family sharing breakfast. Father is played by Peter Simon Hilton and Mother by Tina Stafford. They receive a visit from the Postman for Cwmdonkin Drive played by John Ahlin.  He brings young Dylan a parcel which will be opened later.
Next, young Dylan meets his friends played by Thomas Daniels, Julian Blake Gordan, and Seamus Mulcahy in the local park where they play all sorts of imaginative games that we watch and remember what life was like before video games! The Park Keeper, Patrick Toon, keeps the boys orderly and also add to their adventures of trying to get away with something.
The time arrives for the friends to depart and go to their respective family gatherings. This was an especially enjoyable part of the show because we watch as the relatives and friends arrive at the Thomas house. They carry with them gifts for young Dylan and we see the gratitude for some lovely thoughtful items. The train set is especially a revelation to watch being put together and used reminding us of how this tradition continues on to this very day in many homes at the holidays. Each person who arrives has a back story that is told and they add to the light humor of the show. A bit of a calamity occurs when the gas oven backfires on Mother and burns the turkey. However, an unexpected solution arrives at the home to salvage the meal and the mood of the group.
There are other scenes that keep the story line moving at a fine pace. This show has a warm feeling that is created by an exceptional cast who in some cases play several roles in the production. In addition to the names mentioned above, the cast includes Alison Weiler, Clemmie Evans, Andy Paterson, Cassandra Cushman, Alycia Kunkle, Tess Ammerman, Carey Van Driest, Benjamin Hajek, and Ian Zane.
Make sure to add this to your list of holiday shows to see and enjoy.  It has been logged in my book of favorites to be seen again.
About the Show
Running Time: 1 hour 50 minutes plus one 15 intermission

Location: F.M. Kirby Shakespeare Theatre, 36 Madison Avenue, Madison, NJ

Performances: Through Jan. 1, 2017
Contact for Info and Tickets: Call the Box Office 973-408-5600 or online at ShakespeareNJ.org. Prices range from $25 – $75. This season, The Shakespeare Theatre of New Jersey is initiating their 30 UNDER 30 Program, which offers $30 tickets for patrons aged 30 and under, with valid ID, tickets subject to availability. The Shakespeare Theatre of New Jersey offers various cost-saving opportunities, including $15 student rush tickets, which are available 30 minutes prior to each performance, with a valid student ID, and a limited number of Pay What You Can tickets for every performance on a first come, first serve basis.

Suggested Audience: Appropriate for all ages