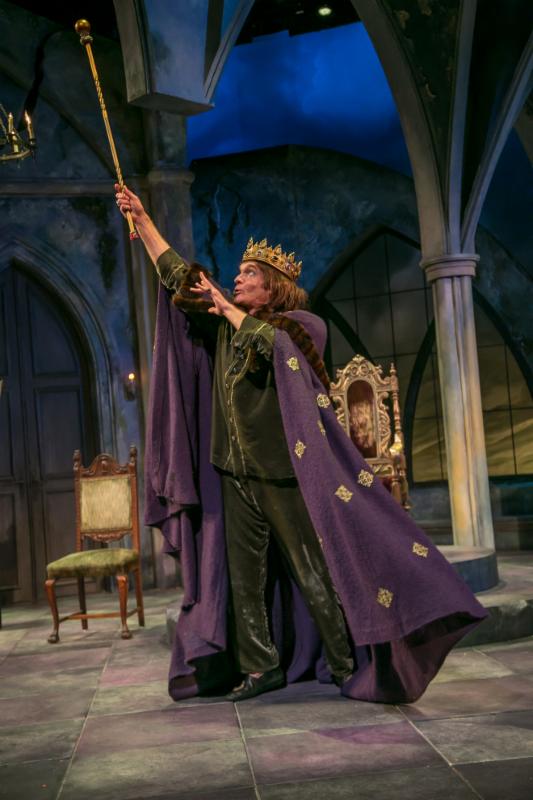 Exit the King opened last weekend at Madison's Shakespeare Theatre of New Jersey. The production will have a very short run as it closes on August 28. Written by Eugene Ionesco, it has been called a tragi-comedy, a dark comedy, and even a parable or allegory. This play stimulates a theater goer's imagination to make connections to one's own beliefs about death, life, and maybe even political situations. A visit to the theater to see this play will not only provide a show that is entertaining, but also loads of topics for discussion at a post theater chat and even later if one decides to go to an apres-theater dessert outing.
Directed by NJ Shakespeare's Artistic Director Bonnie Monte, Exit the King is a story about the oncoming and inevitable death of King Berenger. The King does not realize or want to accept that he is about to die. The plot develops as the characters around him determine their own feelings about whether or not they are ready to let their King die. For example, his current wife, Queen Marie, demonstrates immaturity and dependency because her own position in life will be compromised when the King dies. But on the other hand, his first wife who is older, Queen Marguerite, understands where he is headed and helps him gain an understanding of the events to come.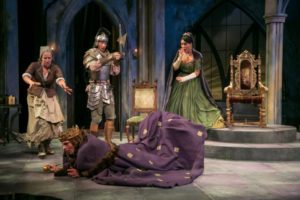 This is a very physical show where one sees King Berenger falling many times. Sometimes he is helped up and other times not. But a word of warning for some; the entire 90 minute show is about the man moving into death. If that is not a topic you can handle, then this might not be the show for you. However, the use of symbolism plays heavily into the action as it takes place. Perhaps if someone is not willing to think about that subject, they will allow their own view to go into other directions mentioned in the show such as the state of the country the King rules.  However, some of the major aspects explored deal with basic ways that people deal with when someone around them is dying. Do they let the person go easily or do they try to hold on maybe too long?
Although parts of the play are presented with lines that draw laughs, other parts are very serious and intense. The scene between Queen Marguerite and King Berenger is especially touching as she tries to reassure him that he has had a good life and it is okay to allow death to come. Perhaps because she is older, she is able to do this. And maybe because as an audience member, I am older and saw it in this way. The eventual state of death that the King appears to enter has a very serene quality about it. It is theater at its best.
In a fascinating post-show Talk Back with Director Bonnie Monte and the cast, after the Sunday night, Aug. 14th show, Ms. Monte explained that the play can have a variety of meanings. The thoughts of the audience were very interesting to listen to and to see how many different things were seen and imagined by different people. It lends credence to this play and is a perfect example of how theater can be for all. If you are going to see this show, make plans to stay for the post-show Talk Back as it is quite enlightening to hear.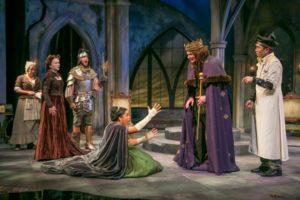 This production has a strong cast of actors who give intensity to their parts to help the audience feel the pain, sorrow, and in some cases relief that the characters are going through. This is an ensemble effort however, Brent Harris as Berenger the First, the King and Marion Adler as Queen Marguerite are indeed the two roles with the most effect on all that occurs. Their acting is splendid in every way. Jon Barker plays the role of the Guard with loads of finesse and dry humor. Kristie Dale Sanders plays a very comical Juliette, the maid. Greg Watanabe plays The Doctor who is analytical as well as practical. Jesmille Darbouze plays the role of Queen Marie with great heart.
Additional Information
Running Time: 90 minutes with no intermission – There is a Talk Back after each show.
Artistic Staff:Set Designer – Hugh Hanson, Sound Designer – Karin Graybash, Production StageMmanager – Christine Whalen
Location: Main Stage: The F.M. Kirby Shakespeare Theatre, 36 Madison Avenue (at Lancaster Road), Madison, NJ
Performances: Tuesdays (7:30 p.m.): August 16 and 23, Wednesdays (7:30 p.m.): August 10, 17 and 24, Thursdays (8:00 p.m.): August 11, 18 and 25, Fridays (8:00 p.m.): August 12, 19 and 26, Saturdays (2:00 p.m.): August 13, 20 and 27, Saturday (7:30 p.m.): Opening Night on August 13 Saturdays (8:00 p.m.): August 20 and 27, Sundays (2:00 p.m.): August 14, 21 and 28, Sundays (7:30 p.m.): August 14 and 21
Contact for Info and Tickets: Call the Box Office at 973-408-5600 or visit ShakespeareNJ.org
Suggested Audience:
Post-Show Symposium Performances: All performances starting on August 14 through the end of the run.
Know The Show: Thursday, August 18 at 7:00 p.m. and curtain at 8:00 p.m. This program is free with the purchase of a performance ticket, and for Exit the King will be held Thursday, August 18 at 7:00 p.m., with the show commencing at 8:00 p.m. Ms. Monte will present this talk.