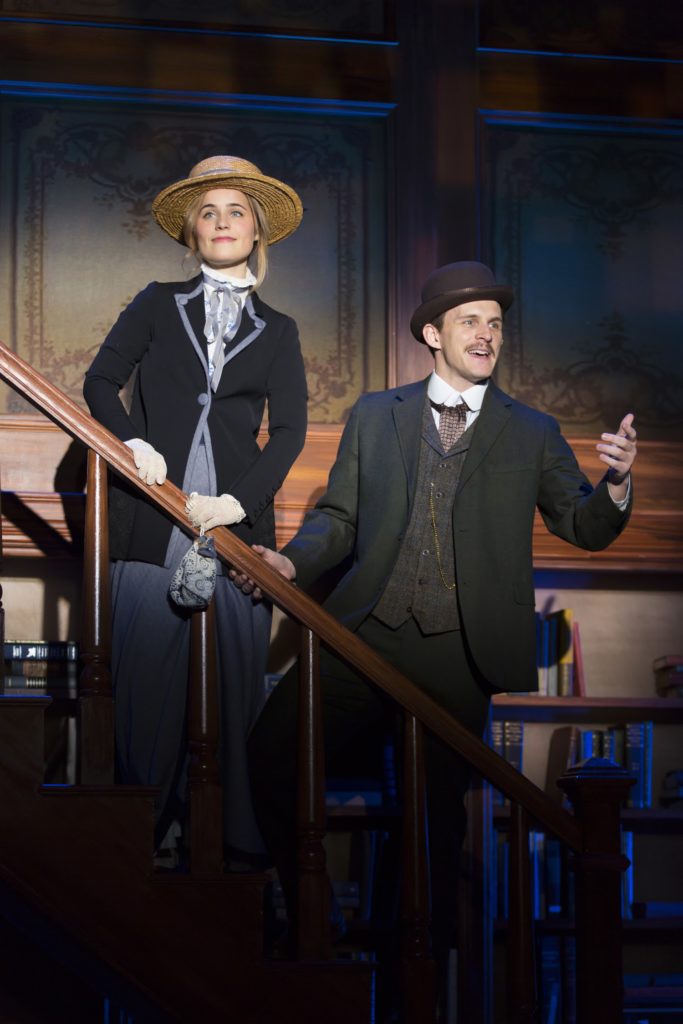 The George Street Playhouse will run the romantic musical Daddy Long Legs through the month of December at their New Brunswick theater.  Based on Jean Webster's novel of the same name, the musical recently completed an Off-Broadway run. This musical has a book written by John Caird with music and lyrics by Paul Gordon.
Resident Artistic Director and Director of this production is Michael Mastro who describes the show as follows:  "Daddy Long Legs is a moving, lovely, beautiful and funny new musical. It's sure to warm the hearts of our patrons this holiday season." This is a good description of how we felt after seeing this show and it has many positive aspects to it that make it a good pick for families this December. For younger children who need to see a lot of action taking place, this show might be difficult. But there is nothing in it that a family has to be concerned about if they go to see it.
The setting is various locations in New England and New York in the years 1908 – 1912. The story is about a young woman, Jerusah Abbot, who has lived her life in the John Grier Home for orphans. It has not been a bad life, but she doesn't see much of a future until she receives a letter from a a man who works anonymously with the Board of the Grier Home who informs her that he will fund her way through college to help her obtain her degree in writing. He was impressed with an essay she wrote and he feels that she could do something with her skills. He places some conditions on the acceptance of the offer which include her being required to write letters to him on a weekly basis informing him of her daily life activities. There are several other stipulations but the most important one is that she will never know who he is. She soon adapts the name Daddy Long Legs when writing to him. The closest she comes to a personal connection is through a "Mr. Smith" who handles occasional correspondence for the benefactor.  Throughout the show, the audience see Jerusha grow and change and learn about all that she is encountering as she reads aloud the letters she is writing to her Daddy Long Legs.
The other character we see in the show is Jervis Pendleton who is actually the benefactor who wishes to remain hidden from Jerusha until he becomes very intrigued with her. All works out conveniently for him to meet her because his real life niece (who we never see) is also at the college where Jerusha attends classes. He pays his niece a visit but ends up spending time with Jerusha and somewhere along the line, he falls in love with her. It all sounds very neat and easy, but it is not. What happens to both of these people in the process allows the magic of the story to unfold and to lead to a very happy ending.
In addition to the story line, there are so many good things about this show that make it a great pick to go to see. First off, Elise Vannerson as Jerusah is a revelation to watch. She is totally convincing in everything she says, sings, and does that you feel you are truly watching an early 1900's woman. Her manner is relaxed and yet intense in what she says and believes and her singing voice is perfect for this part. Ben Michael plays Jervis Pendleton with the right amount of trepidation and hesitation to show his character's insecurity about loving someone. However, when he becomes jealous of other potential suitors for Jerusah, his character quickly becomes unforgiving. Mr. Michael also has a singing voice that is strong and convincing as he struggles to impress Jerusah and then win her back.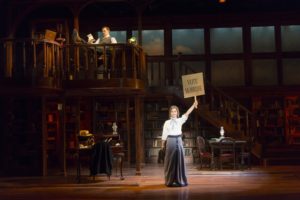 Another very enjoyable feature of this show is the way in which the action takes place. The stage has been divided into an upper and lower portion and each character dominates one area. So we watch Jervis on the upper level at a desk and Jerusha on the lower level with a desk and a few other items around her including a wardrobe trunk filled with costumes that are beautifully designed. The orchestra is under the direction of Darren R. Cohen who also plays piano for the show along with Sam Quiggins on cello and Luke McGinnis on guitar. They are behind a screen which serves as a backdrop to give lighting clues as to the time of day and even the seasons. The songs are melodic, some are descriptive, and some are downright romantic!
About the Show:
Run Time:  2 hours plus one 15-minute intermission
Location: George Street Playhouse, 9 Livingston Avenue • New Brunswick, NJ
Performances:  November 29 – December 24, 2016
Contact for Info and Tickets: George Street Playhouse Box Office 732-246-7717 or www.GSPonline.org.