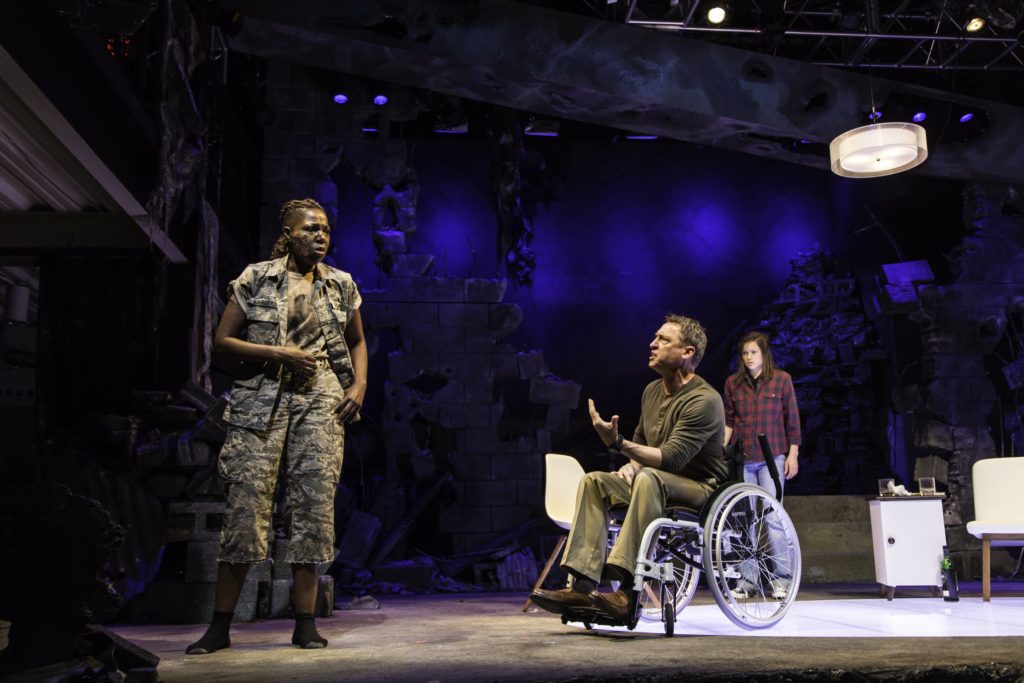 The George Street Playhouse continues their current season with a dynamic play titled America Hero. Written by Christopher Demos-Brown, American Hero is at times terrifying and hard-hitting, but a theatrical experience well worth going to see. There are combat scenes that might be difficult for some to watch. However, they are needed to tell a story of two heroes of a battle that takes place post 9/11 in a Middle Eastern location. Both are members of the U.S. military who distinguish themselves by acts of valor. But only one receives the Metal of Honor.
The play opens with the scene of combat as it is taking place. Rob, a Marine captain, jumps on a grenade and saves many lives by doing so. He gets wounded and begs to be carried out by fellow soldier, Mary, a black woman, who is part of the Army.  Although he is saved, the next scene shows him in a wheelchair. He is back to his civilian life and has become successful with a small chain of stores. His daughter, Shawn, lives with him as she prepares to enter the Air Force Academy. There are several scenes which also show the preparations made to get Rob the Medal of Honor. The captain who speaks with Rob asks him about Mary. Mary is Army whereas Rob is a Marine. The desire to present the Medal to a Marine over an Army person becomes obvious. Rob also mentions information about Mary that lets the other man know she is a lesbian. Not much is said at the time about this collection of information but the play starts to show a cover-up at work.
The actions of both Rob and Mary are deserving of the Medal of Honor. Why does one get it over the other? The discovery of the cover up occurs when Mary comes to visit Rob. It leads to a treacherous conclusion. You will want to scream about the injustices taking place. That's how strong this play is.
Director David Saint does an amazing job with American Hero in creating tension throughout the play. This tension gives a final flashback scene the power it needs to connect all the unspoken words and actions. Mary's fate and the life that Rob prepares to lead all tie in to that flashback. The vividness of that scene is very intense. The final outcome shows the life that Rob leads. Although it does not involve violence, it is frightening in its own right.
Production Manager Christopher J. Bailey and Production Stage Manager Nicole Kuker do a remarkable job of staging American Hero. Using a set design by Jason Simms, the stage moves easily from the combat scene to become Rob's home. The background scenery continues to show the devastation from the war-torn,  rocky area. Keeping that background onstage demonstrates that the memories from these war events are always in the minds of these people influencing what they do.
Also a part of the creative team are costume design by David Murin and  lighting design by Christopher J. Bailey.  Sound design is by Scott Killian and fight direction by Rick Sordelet.
A very strong cast includes John Bolger as Captain and others, Kally Duling as Shawn, Laiona Michelle as Mary, and Armand Schultz as Rob. Their acting is absolutely superb. This cast along with the creatives gives the audience an unforgettable theatrical experience.
American Hero is the second part of trilogy from playwright Christopher Demos-Brown. The first part of the trilogy, American Son, ran at George Street Playhouse last season. American Son is scheduled to open on Broadway in November, 2018.
additional information for american hero
Running Time: 95 minutes, no intermission
Location: George Street Playhouse, 103 College Farm Road in New Brunswick
Performances: Playing now through Feb. 2, 2018
Contact for Info and Tickets: Visit the George Street Playhouse website at www.GeorgeStreetPlayhouse.org, or call the box office at 732-246-7717.
Audience: Prepare for strong language and mature subject matter.